Antutu's Top 10 Smartphones of July 2016 Based on Performance
by Habeeb Onawole Aug 15, 2016 3:36 am2
Antutu usually releases the top 10 phones for each month based on performance and they've made the list for the phones that scored the highest in July.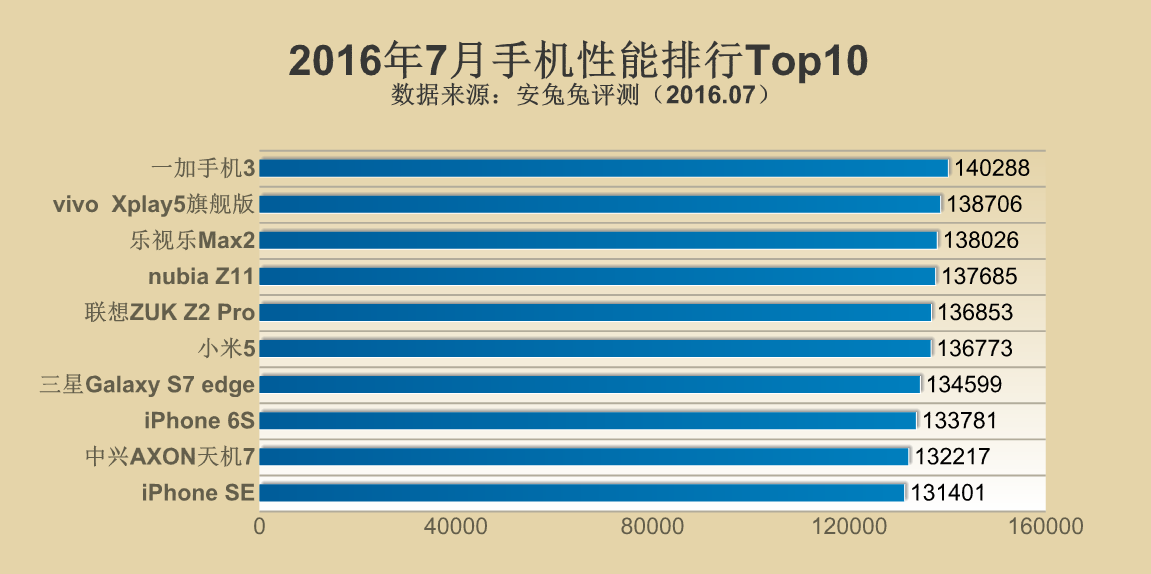 Taking the lead which shouldn't be a surprise is none other than the OnePlus 3. The OnePlus 3 which scored a total of 140288 points features a Snapdragon 820 processor clocked at 2.2GHz, 6GB of RAM, and 64GB of ROM.
Coming in second is Vivo's X5 Play Elite with a score of 138706. The X5 Play features the same processor as the OnePlus 3, but it is clocked lower at 2.15GHz. It also features 6GB of RAM but doubles the storage to 128GB and comes with a curved 2K display.
The LeEco Le Max 2 is the third best smartphone scoring almost 700 points less than the Vivo (138026). The LeMax 2 uses the Snapdragon 820 SoC with the same clock speed as the Vivo, 6GB of RAM, and 64GB of storage. There is a 4GB RAM version with 32GB ROM as well and with the same 2K screen as its sibling.
RELATED: Huawei Mate 9 With Android 7 Spotted on GFXBench
ZTE's Nubia sub-brand comes in at number 4 with the standard edition of the Nubia Z11. The phone scores a total of 137,685 points and is equipped with the same processor as the top 3, but features 4GB of RAM and 64GB of built-in storage.
Other phones that made it to Antutu's list includes the Lenovo sub-brand ZUK Z2 Pro, Xiaomi's Mi 5, the Samsung S7 Edge, Apple's iPhone 6S and the Axon 7. Apple rounds off the list with their most recent phone, the iPhone SE.