Supposed Huawei Mate 9 with Android 7 Spotted on Benchmark site GFXBench
Huawei Mate 9, the expected next big thing from the Chinese phonemaker Huawei is expected to pop on September 1 as the company has sent out invites to a conference preceding the September 2 commencement of the IFA Berlin 2016. Well, that was the expectation, before it was dashed by statements credited to Huawei's Mobile Product Line manager. However, that hasn't stopped the flow of rumors about the flagship device and our expectations for September 1 release date.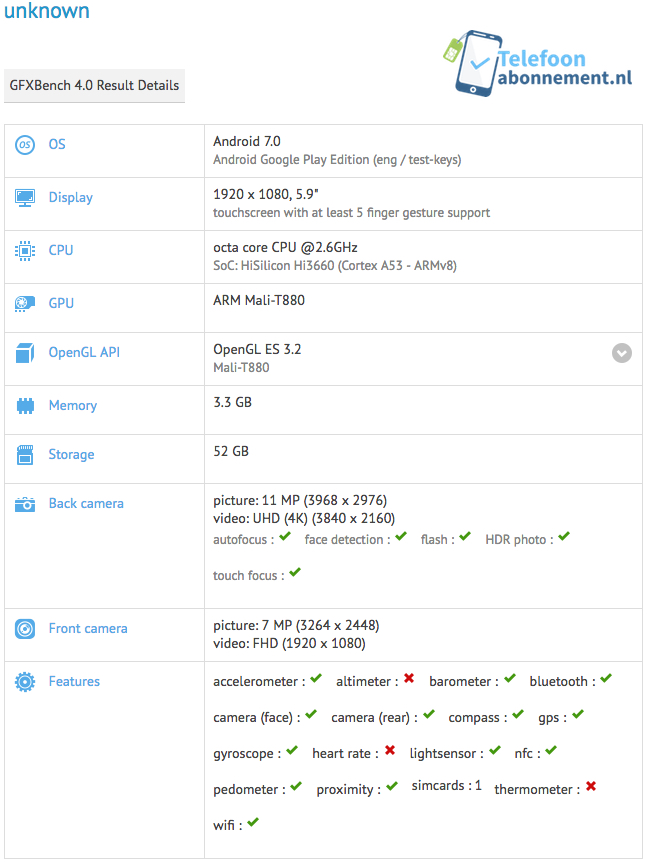 Before now, all we had were just sketchy rumors about a few specs the next Huawei Mate series smartphone will tag along. However, a few details of what is supposedly the Huawei Mate 9 has surfaced via popular benchmarking site GFX Bench.
The GFXBench data featured an "unknown" device with a 5.9-inch display having a somewhat disappointing resolution of 1080pixels. The device is said to pack a 2.6GHz Octa-core HiSilicon Hi3660 chipset with Mali-T880 GPU. The chipset is what suggests that the unknown device is likely the Mate 9 as the Hi3660 serial number suggests the device is having a new generation chip, perhaps the Kirin 970 as rumored. Previous Huawei chipset models like the Kirin 920 had a serial number of Hi3630, 930 had Hi3635 and Kirin 955 Hi3650 as its serials so the Hi3660 is likely a new higher chipset.
The listing also shows the device will boot Android 7.0 Nougat and also pack 4GB of RAM and 64GB of storage onboard. There've been rumors that the Huawei Mate 9 will sport a 20MP camera but this data showed the Mate 9 with only 12MP camera at the rear and an 8MP front facing sensor. But given Huawei's interest in dual camera setup on its flagship models, we can't rule out the possibility of the Mate 9 having two cameras at the back, possibly certified by Leica.
(Source)