OPPO R9S Could Be Coming Soon, New Poster Leaked
OPPO has surprised us all with the overall success of the OPPO R9 model in China. In fact, many other smartphones from the company seem to be doing well this year, which has pushed it to the top five smartphone makers in the world. Now, it looks like the company is preparing for the launch of the OPPO R9S, which will be the successor to the earlier released flagship model of the company.
Recently, a new teaser from OPPO started making rounds on the internet, with the posters saying "TheNextOne". From the talks on the internet, it looks like this could be for the OPPO R9S model that is rumored to debut later this year. The teaser hints that camera will yet again be the highlight of the new generation model. OPPO R9 had a powerful 16MP camera up front and 13MP shooter at the back. These two were capable sensors, so it remains to be seen what upgrades we could see on its successor.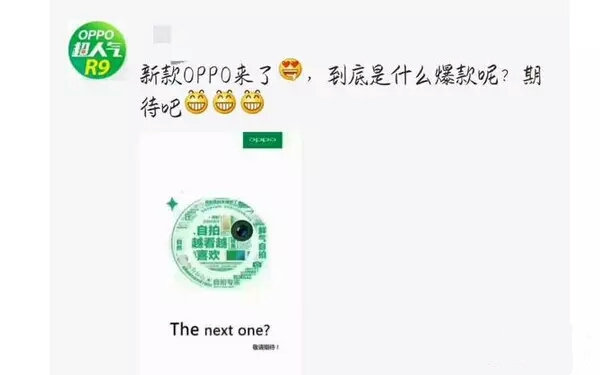 According to the latest information, the OPPO R9S has already entered production. There will be a few changes in the new version, like the processor and some other features. While it is yet to be confirmed, it is said that OPPO R9S will be using the Snapdragon 625 chipset instead of the Helio P10 found inside the current R9 model. Also, the VOOC fast charging tech could be upgraded, with a possibility of the Super VOOC tech that was demoed back at MWC 2016 Barcelona making it to the new generation model.
RELATED: OPPO R9S Said To Release Later This Year With A Thin Metal Body And Super VOOC
We don't have any specific configuration details of the OPPO R9S, but if the release of the device is close, then expect more information to crop up in the next few days.