Turing Monolith Chaconne with Three SD 830 Chips, 18GB RAM Announced
Just a few days ago, we were entertained with the Turing Phone Cadenza by Turing Robotics Industries (TRI), which looked more like a concept phone than a phone that would hit the market next year as they promised. While we are still looking forward to where it'll all end up, TRI has come up again with yet another smartphone with a crazy specs line-up that honestly looks unrealistic, at least for now. They called this one Turing Monolith Chaconne.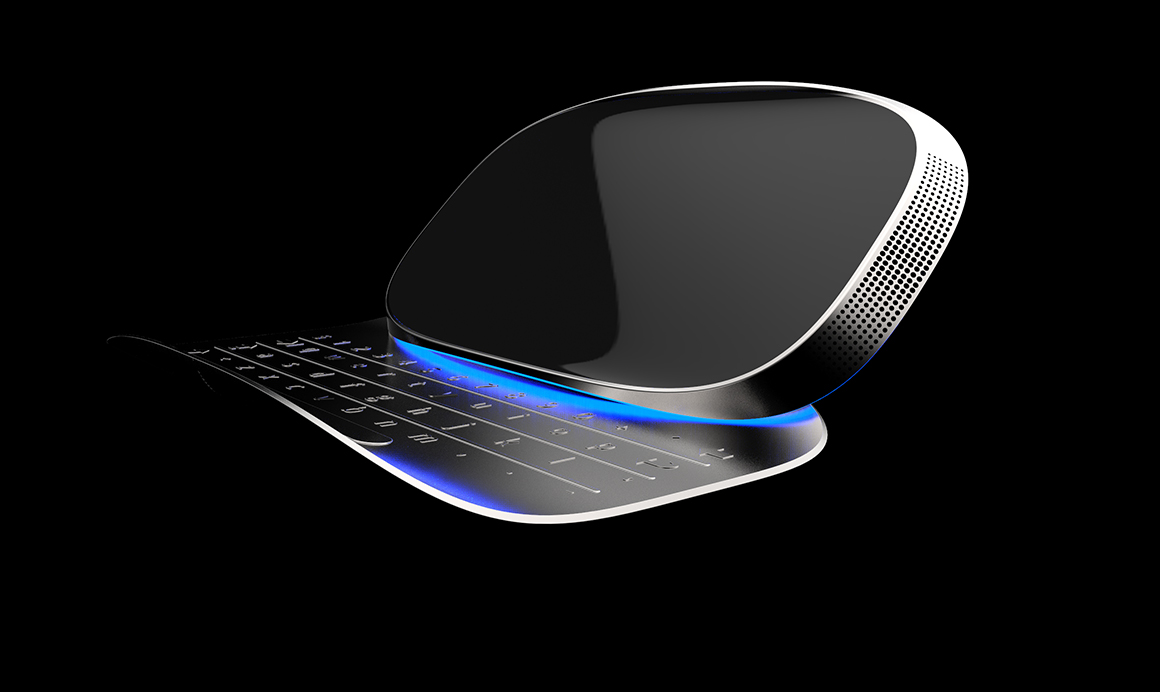 If you think the Turing Phone Cadenza is insane, you might want to have a rethink because the Turing Monolith Chaconne packs even more crazy stuff. While the Cadenza was to come powered by two Snapdragon 830 chipsets, the Monolith Chaconne takes the idea even further, featuring three SD 830s. The Chaconne is also said to feature a huge 18GB RAM, that's an additional 6GB to what the Cadenza boasts of.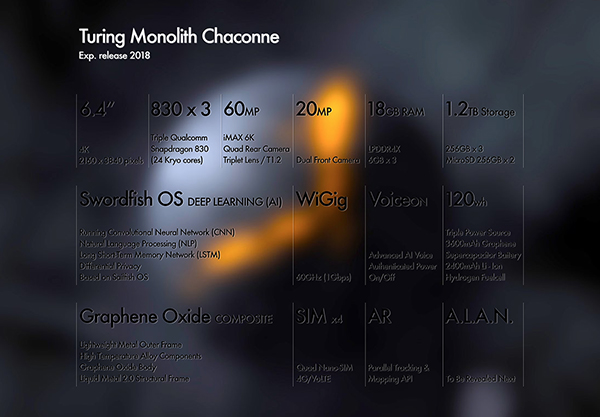 In addition, the Turing Monolith Chaconne will sport a 6.4-inch 4K display and would have 768GB of built-in storage as well as two 256GB SD cards, bringing the total available storage to 1.2 TB. The hydrogen fuel cell-equipped battery on the Chaconne gets a boost of 20Wh to 120Wh.  Specs shared with the Cadenza include Swordfish OS, the graphene oxide composite construction, the 60MP quad rear-facing camera, the 20MP dual front-facing camera, and quad nanoSIM capability.
That's not all, the Monolith Chaconne will also have a slide-out keyboard, augmented reality with parallel tracking and mapping, and something called A.L.A.N which we'd get to know about later.
Related: Turing Phone Cadenza with Dual Snapdragon 830 Chips, 12GB RAM Teased
Unfortunately, we'll have to wait longer to see if Turing can actually deliver this one because the Monolith Chaconne is slated for release in 2018. As a parting shot, can someone out there please tell me what we need a smartphone with these seemingly doubled up specs for at this point in time?
(Via)