Huawei Mate 9 Poster Leak: Kirin 960 & 20MP Dual Cameras
Huawei released the new Huawei Nova smartphones at IFA Berlin this year. While the new phones are pretty good when it comes to its looks and specs, they are nowhere near the flagship Huawei Mate series. We know for sure that we will see at least one new high-end model in the Mate series later this year and now, a leaked poster seems to reveal more details about the upcoming flagship, the Huawei Mate 9. Ideally, we should see the Huawei Mate S2 model before Mate 9's release, but details about the former device are quite scarce at the moment.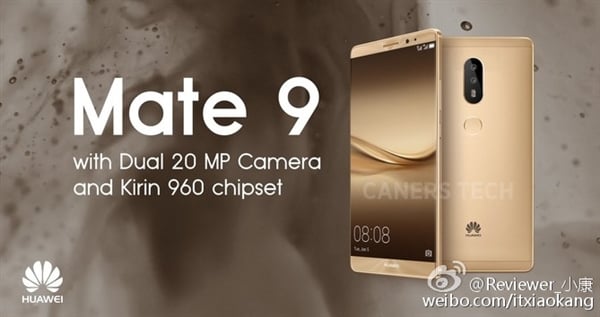 The Huawei Mate 9, according to this new leaked poster, will come with dual 20MP cameras at the back. Now, this is something that we have been hearing quite a number of times in the past few months. A few months back, an analyst had said that the Mate 9 will feature dual 20MP sensors at the back, with Leica certification, and this poster seems to be backing that claim. Until now, Huawei has been using a monochrome + RGB sensor combination on its dual camera flagships and we can expect a similar setup on the upcoming handset. It should also feature OIS, according to another analyst who revealed this information recently.
RELATED: New Image of Huawei Mate 9 Dual Camera Setup. May Feature Kirin 960
Another important information revealed by this poster is that the phone will come with Kirin 960 chipset. This will be the new generation flagship chipset from Huawei's Kirin range that should use the new Cortex A73 Artemis cores.
One thing to remember is that the Huawei Mate 9 poster that's leaked today is quite basic. The dual camera setup arranged vertically is the only major design change that differentiates the device in the image and the Mate 8. Rest of the design, especially from the front looks identical to the Mate 8 flagship. Hence, it's quite likely that this is a fan made poster and the details are based on the previously leaked information.
We can expect the Mate 9 sometime later this year, ideally around November- December period. So, there is still a couple of months left for the official launch.