iPhone 8 Rumours: Return of Double Sided Glass, Black and White Ceramic Variants
by Habeeb Onawole Oct 4, 2016 3:27 am0
The dust of the iPhone 7 and 7 Plus has barely settled and we are already getting news of the iPhone 8. The launch is still a good eleven months from now, so any of these details can be changed before then.
Next year is a big year for Apple as it marks the 10 years anniversary of the very first iPhone. That reason alone should make the next iPhone a really great phone. Although Apple hasn't confirmed the name yet, but speculations say that it will be called the iPhone 8, which doesn't sound exciting to me.
Another info we have gotten is about the design of the phone. A Weibo user whose handle loosely translates to @Great afternoon sleep_silent posted that a former Apple employee @geniusbar leaked that the iPhone 8 will bring back the double sided glass design which last appeared on the iPhone 4s.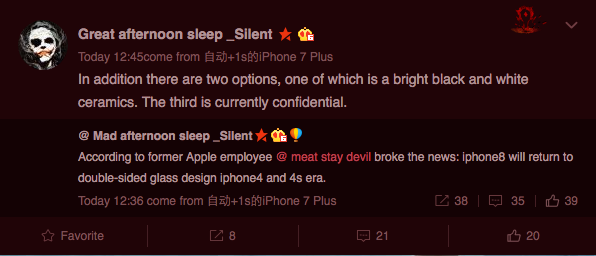 This rumour has actually been circulating for a while now and has even been posted by popular analyst, Kuo Ming-pool. His post says the high-end version of the iPhone 8 or 8 Plus will re-employ the classic double glass + metal frame design. @Great afternoon sleep_silent mentions that a second option will feature black and white ceramic body and there will also be a third variant whose design is still a secret.
READ MORE: Xiaomi 3S Plus Launched in India
Previous leaks by @Great afternoon sleep_silent about the iPhone 6 and 7 have turned out true, we still advise you take these new leaks with a pinch of salt.