New Meizu Blue Charm Device Leaked, Most Likely Meizu M4
After the release of the Meizu M3 Max last month, we haven't heard much about the company's new products. However, earlier today, a weibo user seems to have got hold of a new Meizu handset on TENAA, which is likely a device in the company's youth-oriented Blue Charm series. While we are not sure of the exact model name of the device, it is said that this new model could be the Meizu M4.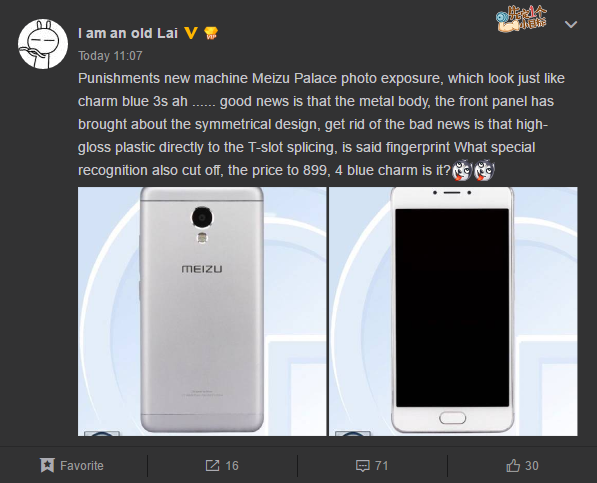 Meizu has a reputation of updating its lineup every few months. The Meizu M3 was announced back in April and later in June, the M3S model was announced. So, it won't be surprising if we see an update in the lineup in the next few months.
Since we don't have an official listing of the device on TENAA, we can't confirm the specs of the device. However, the person who leaked these images adds that the body of the Meizu M4 is made out of metal with some plastic parts and it does not feature fingerprint sensor. Now, we can clearly see a physical home button, so it remains to be seen whether Meizu will remove such an important feature from the device. Further, he adds states that the pricing is 899 Yuan ($134), which is higher than that of the M3S.
RELATED: Meizu M3 Max Phablet In Pictures
Until we get the listing on TENAA, I would take this with a pinch of salt. Stay tuned for more updates till then.