Xiaomi Mi Note 2 vs Samsung Galaxy Note 7 vs Samsung Galaxy S7 Edge
by Habeeb Onawole Oct 25, 2016 6:07 am11
Xiaomi announced the Mi Note 2 a few hours ago and we are not going to pretend it doesn't look like a number of devices from another company. Yes, the Mi Note 2 does look like Samsung's S7 Edge and the Galaxy Note 7 (of blessed memory). But it is also different in a number of ways. Let's examine how each of this device stands out from the others.

Display
All three devices feature curved displays which is the major similarity they share. Samsung isn't new to curved displays but this is Xiaomi's first attempt at making one. The Xiaomi Mi Note 2 and Galaxy Note 7 both have dual-curved 5.7" displays but the S7 Edge is a tad smaller at 5.5". The Mi Note 2′ screen is a 1080p flexible OLED display supplied by LG but Samsung's phones sport 2K Super AMOLED displays.
Samsung's curved edges are designed to work independently off the main screen,  allowing users to customise its use. You can put your favourite apps, custom tasks, contacts, and news feed which can all be accessed from any app just by swiping from the edges.
Xiaomi's Mi Note 2 does something similar. Swiping from the left edge lets you access a list of wallpapers and theme customisation while a swipe from the right gives you access to preset contacts, calendar schedules, and the compass app.
It's important to mention display protection. The Galaxy Note 7 has Gorilla Glass 5 while the S7 Edge and Mi Note 2 have Gorilla Glass 4.
Camera
When the Xiaomi Mi Note 2 leaks were pouring in, we all thought it was going to come with dual-rear cameras, but not until a few days before the launch did we get to see leaked images of the phone with a single camera. The main camera on the Mi Note 2 is a 22.56MP f/2.0 Sony IMX 318 sensor with EIS and 4K recording.
The Note 7 and S7 Edge both use a 12MP f/1.7 sensor with OIS and support for 4K recording. It's going to be hard to tell which camera sensor is best until there is a comparison of all the three cameras but Samsung's S7 Edge has one of the best cameras on a phone right now.
The front camera on the Xiaomi is an 8MP IMX268 shooter with a f/2.0 aperture, and Beautify 3.0. The S7 Edge and Note 7 both have 5MP front cameras with f/1.7 apertures and Auto HDR.
RAM/ROM/Processor
The Mi Note 2 comes in a variety of RAM and ROM storage. There is a 4GB RAM+64GB variant and a 6GB RAM+128GB variant. The Note 7 and S7 Edge comes with only 4GB of RAM. The Note 7 only has 64GB of storage but the S7 Edge offers 32GB and 64GB variants. The large storage option of the Xiaomi comes with sacrificing the SD card slot but Samsung allows you to use up to a 256GB SD card in any of both phones.
The Mi Note 2 uses Qualcomm's Snapdragon 821 SoC clocked at 2.35GHz. The Note 7 uses Samsung's own Exynos 8890 chip while the S7 Edge which was released before the SD 821 was announced sports a SD820 processor. All three chips are more than enough but the SD 821 offers a little more performance.
Bells and Whistles
The Galaxy Note 7 was one of the best phones released this year. It followed the already laid down pattern of the Note series: featuring a new and improved S-Pen which no other company has been able to replicate. It was also the first note phone to be waterproof, a feature present in the S7 Edge too. The S7 Edge and Note 7 also support wireless charging.
Xiaomi on the other hand have never made a waterproof phone neither does any of their phone have support for wireless charging. So if these features are what you want in a phone, the S7 Edge is your go to device.
All three devices have NFC for payments and fingerprint scanners. Unfortunately, no ultrasonic sensor on the Mi Note 2.
The Mi Note 2 comes with a dedicated audio processor that provides 24bit Hi-Fi sound quality. Starting to become a permanent feature for Xiaomi flagships, the Mi Note 2 features an IR blaster as well.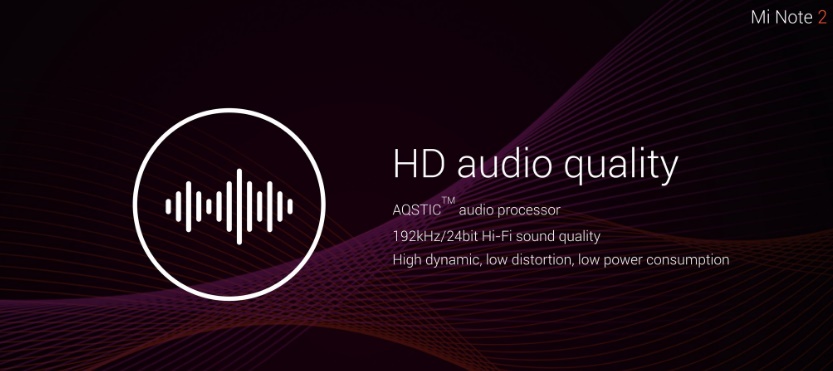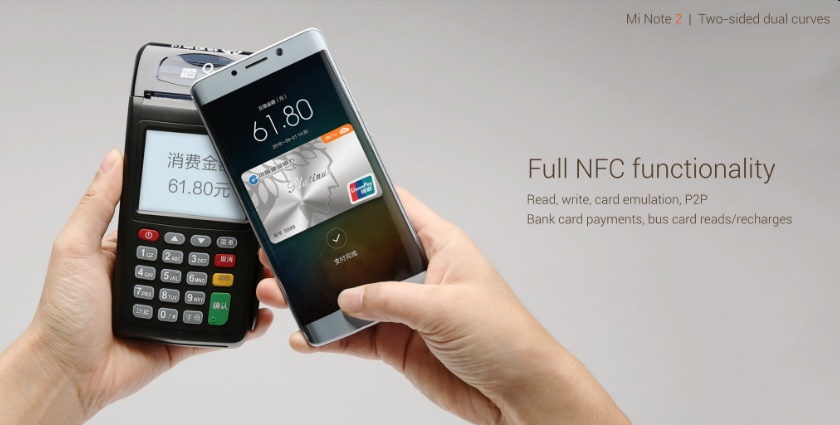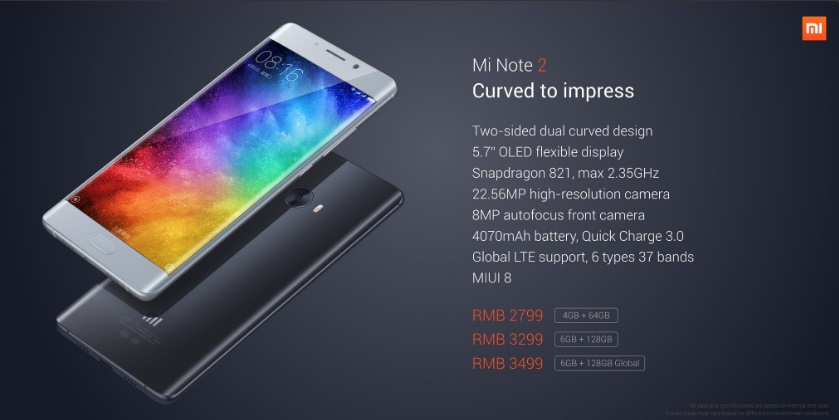 Battery and Price
Battery life is an important factor when it comes to buying phones. The Mi Note 2 has a 4070mAh battery, the S7 Edge has a 3600mAh battery, and the Note 7 has a 3500mAh battery and all three phones support QC 3.0. Xiaomi's battery is larger and should have a longer battery life but real life tests are still necessary to find out how it holds up.
The Mi Note 2 starts at $413 for the standard edition with 4GB + 64GB, and moves up to $487 for the 6GB+128GB variant. A third variant called the Global Edition that can work with tons of carriers including CDMA networks in the US sports 6GB RAM and 128GB ROM and is priced at $516.
Samsung's Note 7 has been discontinued but was priced at $850 which is way more expensive than even the global variant of the Mi Note 2. The S7 Edge is not cheap either. It starts at around $600 for the 32GB version and over $700 for the 32GB variant.