Vivo X9 Gets Ministry of Industry Network Certification
by Habeeb Onawole Nov 5, 2016 5:06 am0
Vivo has confirmed November 16 as the date for the official launch of the Vivo X9 and X9 Plus, and both phones have already gotten their network certification from the Ministry of Industry.
The Vivo X9 and X9L have full network support, so if you are on a CDMA network and wish to change your phone soon, you may want to add either of these phones to your list.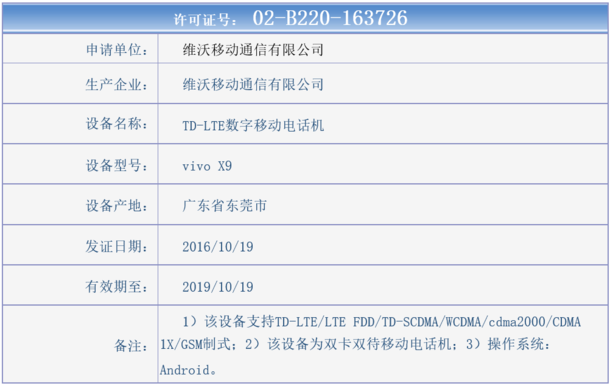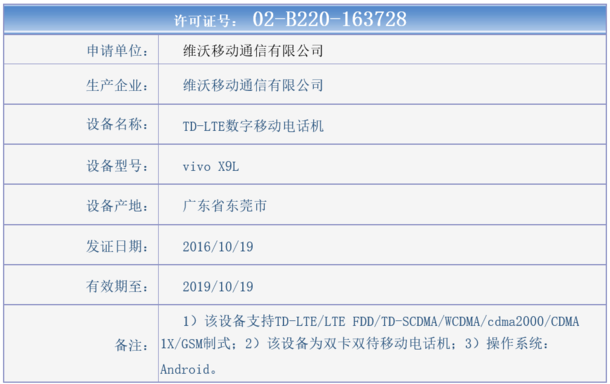 Vivo has focused on the design of both phones. Promotional images show a device with very thin bezels. Sources say they have used the latest COS narrow border technology to arrive at a bezel size of just 1.59mm. They've also put Corning's 5th generation glass on top of the display for protection. The antenna lines also sport a U-design that goes around the top of the phone.
The unique selling point of the X9 is its dual-front facing cameras (20MP+8MP) which work together to capture HD depth of field images. The 20MP sensor captures the details and the 8MP sensor obtains the depth information resulting in SLR bokeh images. The X9 Plus on the other hand is said to have dual cameras on the back as well, making it a total of 4 sensors.
READ MORE: Vivo Expected to have Sold 75 Million Smartphones by Year's End
The Vivo X9 will launch with a 5.5" FHD display, 4GB of RAM, and a Snapdragon 653 chip. The X9 Plus will have a 6" display, the same processor and possibly 6GB of RAM.