Jingdong Mall Records 42.5 Million Sales During Singles' Day Festival
by Habeeb Onawole Nov 12, 2016 4:26 am1
Jingdong.com is one of the largest 3C (computer, communications, and consumer electronics) online stores in China and yesterday they and several other stores held one of the biggest shopping festivals in the year, the Singles' Day (Double 11) shopping event. The mall has disclosed that total sales made from the shopping event exceeded 42.5 million.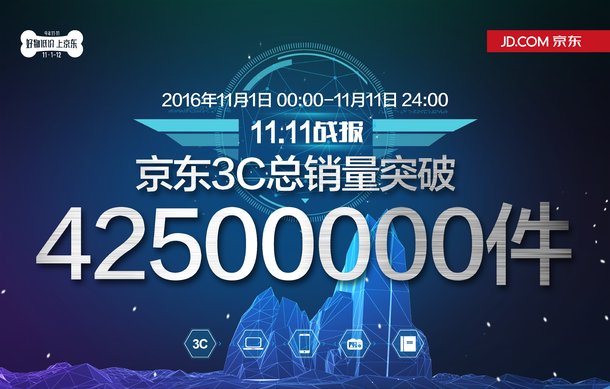 The sales which cover a wide range of items have been broken down into three major categories:
Mobile phones = 4.34 million units
Computers and office accessories = 17.28 million units
Digital cameras, tablets, ebooks, headphones, smart devices, travel tickets, and hotel bookings etc. = 20.88 million units
Jingdong says Huawei (and Honor), Xiaomi, and Apple were the three best selling phone manufacturers in the smartphone category followed by Meizu, Samsung, LeEco, 360 Mobile, Nubia, OPPO, and ZTE.
The top 10 best selling phones during the sales are the Redmi Note 3, iPhone 7, Honor 8, Redmi Note 4, Honor Play 5C, Redmi 3S, iPhone 7 Plus, Honor Play 5, iPhone 6 Plus, and Honor Play 5A. Huawei's Honor sub-brand is no doubt enjoying massive popularity among shoppers.
For the computers and office category, Jingdong says 650,000 notebook sales were recorded with Lenovo, Dell, ASUS, ThinkPad, HP, Apple, Samsung, and Acer being the top sellers. In addition, over 570,000 monitor sales from manufacturers such as Samsung, AOC, Dell, Philips, and LG were recorded.
Storage devices (SSDs and USB flash drives) sold exceeded 2 million, while printers and projectors sold was just shy of a million units (960,000).
For the last category, the sales figure shows people are still picking up tablets as the online store sold 500,000 tablets from manufacturers like Lenovo, Apple, Microsoft, Huawei, Teclast, Samsung, CUBE, and ASUS.
Digital camera sales had Canon, Nikon, and Sony taking the lead followed by Dajiang, Fuji, GoPro, Casio, Xiaoyi, Panasonic and Olympus.
READ MORE: Lenovo Shipped 14 Million Smartphones During Second Quarter
The store recorded its highest sales (16 million) in books, travel tickets, and hotel bookings. Based on the above, there  is no doubt that the festival has been a success. Jingdong says it will still continue to uphold their high-quality but low-price policy.