Xiaomi's Mi Band Sales Triples That of Apple Watch
by Habeeb Onawole Dec 10, 2016 1:16 am0
When it comes to mobile devices in general, smartphones are usually the highest selling. Tablets on the other hand have suffered a decline in sales over the years and seem to have been overtaken by wearables. The latest report from IDC shows the sales of wearable devices for the last quarter and the figures are pretty interesting.
The list shows the top five wearable device vendors for Q3 2016 and it is headed by one of the most disliked companies right now, Fitbit. Yes, disliked due to their recent acquisition of Pebble which has resulted in the cancelling of three new Pebble wearable devices that have already been backed on Kickstarter. Fitbit shipped a total of 5.3 million devices in the last quarter compared to 4.8 million in the same quarter in 2015. Fitbit now controls 23% of the market up from last year's 21.4%.
Second on the list is no other than Xiaomi whose Mi Band sales puts them above other big names like Garmin, Apple, and Samsung. Sales of the Mi Band for last quarter comes in at 3.8 million which is just a hundred thousand units more than what they sold in the same quarter last year but more than triple of what Apple was able to sell this quarter even after the release of the Apple Watch 2. Xiaomi's share of the wearable market is now 16.5%.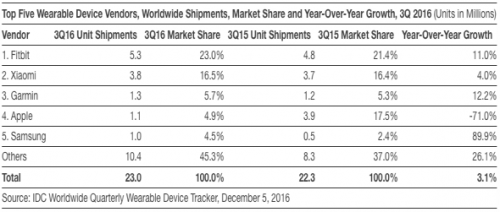 Makers of the Vivo, Fenix, and Forerunner series, Garmin, comes in at number 3 with 1.3 million units sold in Q3 2016. Apple is the shocker as they come in at the 4th position ahead of Samsung, but are the only one who has lost market share and a large one at that. Apple was able to sell 1.1 million wearable devices last quarter which is a sharp contrast to last year's 3.9 million for the same quarter. Their market share also currently stands at 4.9% compared to 17.5% in 2015.
READ MORE: Meizu Band Review: Awesome Cheap Fitness Tracker
Samsung closes the list of the top 5 with 1 million units and a market share of 4.5% which is just a little shy of double what they had last year.