Amazon's Prime Air Delivers Its First Package
by Habeeb Onawole Dec 15, 2016 1:15 am0
Back in 2013, Amazon CEO, Jeff Bezos announced that the e-commerce giant was going to begin testing a drone delivery service which would later be known as Amazon Prime Air. Three years later, the company has carried out its first drone delivery and it was nothing short of a success.
The test took place on the 7th of December, not in Amazon's home country but  in the UK. Outside the university of Cambridge to be precise and close to Amazon's drone testing facility.
Before the first trial, Amazon had to get an approval from the British Civil Aviation Authority which has told Amazon it will allow it deliver to rural areas once it has sufficient safety data
The order in question was for an Amazon Fire TV and a bag of popcorn which weigh less than a kg/lbs combined and is a lot less than the 2.26kg/5lbs maximum order weight for a Prime Air delivery. The order was placed from a location close to the testing facility and the duration from order to delivery took nothing less than 13 minutes in total. Amazon says it plans to add more people who live within a few miles to the testing program which has already made 2 successful orders. These customers will not be asked to pay extra so far their locations fall within a 30-minute drone delivery time frame.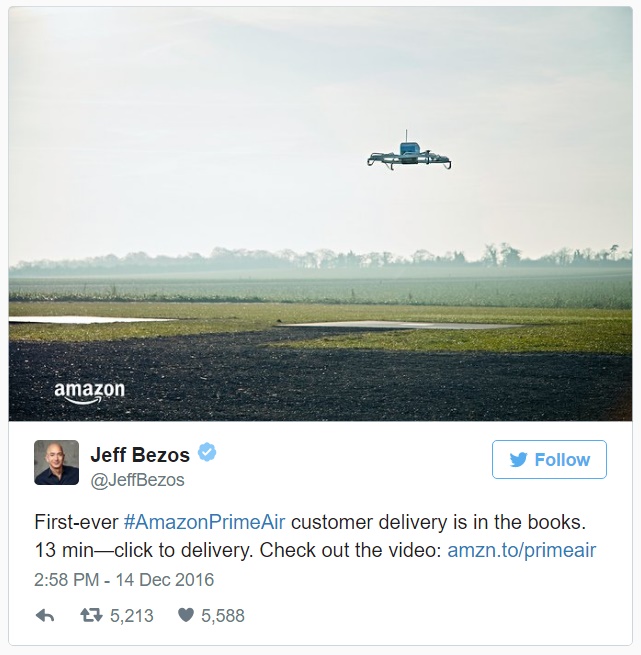 It is important to state that Prime Air Deliveries will only be carried out during the day and will be subject to weather conditions such as rain, snow, fog and any other factor that might affect visibility and flight.
READ MORE: JJRC H37 ELFIE, The world's Cheapest Foldable Drone Offer From TomTop
Amazon already has an approval from the Federal Aviation Administration in the US and plans to roll out the service to other markets but it first wants to start with rural areas, before moving to suburban areas, and then cities.