Xiaomi's 20,000mAh Mi Mobile Power Bank 2 Launched
Xiaomi first released its largest capacity Mi mobile Power bank around November last year with a capacity of 20,000mAh. Now, just a little over a year later, the Chinese company has released a second gen version of the 20000mAh power bank – the Mi mobile Power Bank 2.

The latest Mi Power Bank 2 has an appearance which very similar to the first gen-20,000mAh Pwer bank but with a shorter and more narrow build. It comes with a slightly increased thickness of 2.1mm and also has surface bumps which prevents the device from slipping off the hands. It also comes in white color only.
Related: Xiaomi's 20,000mAh Mi Powerbank Can Charge Your Macbook More Than Once!
Also, the 20,000mAh Mi Power Bank 2 uses high density lithium-polymer batteries and performance has also been significantly improved. The device also comes with support for Qualcomm Quick Charge 3.0. The single port output of 5V / 2A has been raised to 5V / 2.4A. There are also output ratings of 9V/2A and 12V / 1.5A. The device is touted to be capable of delivering full charge to the 4,850mAh battery packing Xiaomi Max in just 2.5 hours. The dual-port output still maintains 5V / 3.6A  rating and is compatible with most mobile phones, tablets and the latest Apple MacBook. The latest power bank can also be used to charge the Mi Band 2 and other gadgets that require minimal current charge.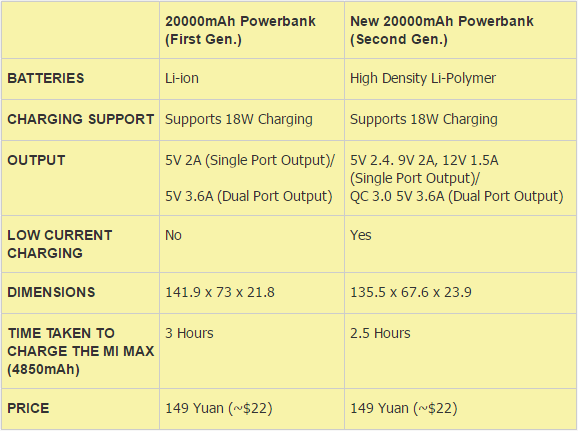 The 20,000mAh Xiaomi Mi mobile Power Bank 2 still carries the same 149 Yuan (around $22) price tag as its predecessor and would go on its first sale next week, precisely on December 19 which is Monday.