Samsung Aims to Sell 60 million Galaxy S8 Units Says Report
A new report emanating from South Korea has revelaed that Samsung  has set a sales target of 60 million units for the expected Galaxy S8 flagship. According to the source, the market leader has instructed its partners to supply parts based on the 60 million units figure that has been set.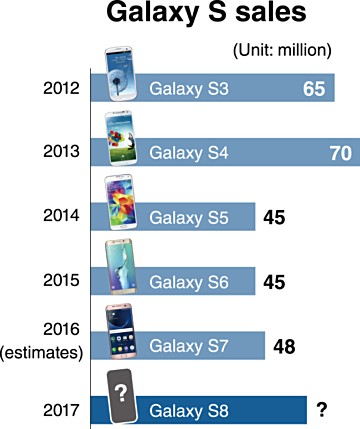 This figure raises the bar for the tech giant as it far out-paces the Galaxy S7 with an estimated shipment of 48 million. The 2015 flagship-Samsung Galaxy S6 also only managed a total of 45 million units in shipments, same for the 2014 Galaxy S5. Only Samsung's estimated sales in 2012 (65 million units) and 2013 (70 million units) surpassed this figure.
Read More: Real image of Samsung Galaxy S8 Leaks: Tough Competition for Xiaomi Mi MIX
This latest rumor further lends credence to rumors of a shift in the Galaxy S8's launch date from March, as the company would sure need some time to build up its stock to ensure adequate supplies.
(source)