Android Rules in China and iOS Growing in Europe Says Kantar Report
by Habeeb Onawole Jan 11, 2017 12:50 pm0
In a new report released by Kantar Worldpanel, Android is the OS that dominates in China. The info was gotten from a survey carried out between September and November.
Android however lost market share in the United States, Britain, France, and Japan but increased its share of the smartphone market in other European countries like Germany, Spain, and Italy. Apple's iOS gained more customers with its new iPhone 7 in Japan, Great Britain, and France.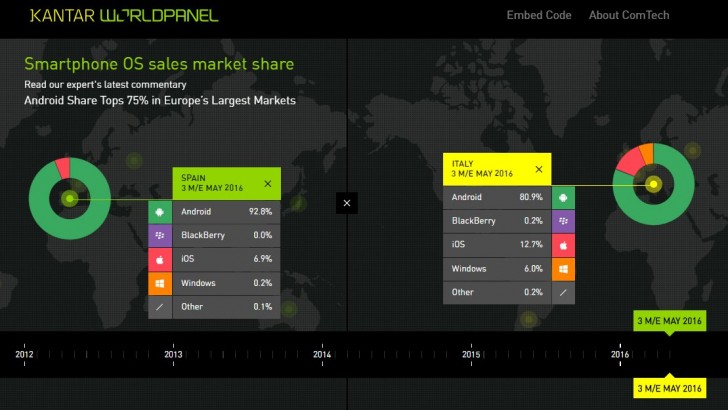 Americans love the iPhone and the results show it. The iPhone 7, iPhone 7 Plus, and iPhone 6s were the most popular devices in the US within the period with a combined share of 31.3%. Leaving Samsung's S7 and S7 Edge at the fourth and fifth position with 28.9% of smartphone sales. The Google Pixel was able to grab only 1.3%.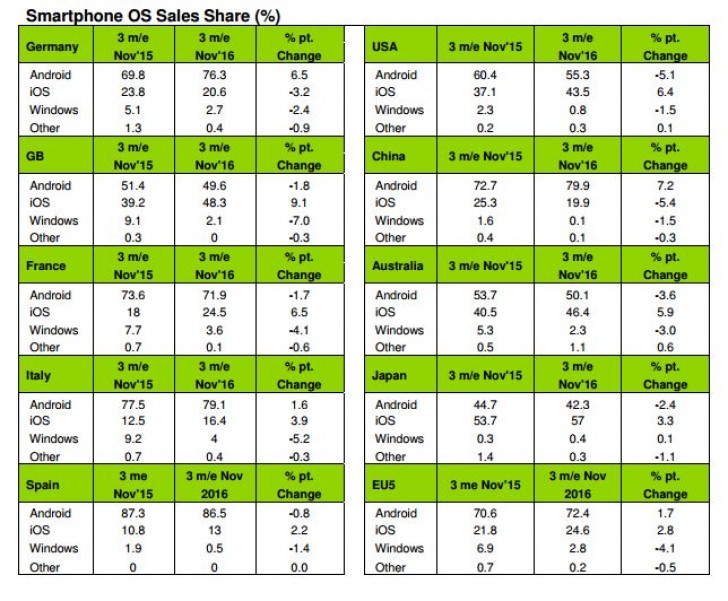 READ MORE: HTC Records Worst Revenue Numbers in 11 Years
Even with Android grabbing majority of the sales in China, the iPhone 7 was the best selling device. Huawei had a quarter of all the smartphone sales and OPPO grabbed 12.9% which was a major win for them.
Windows was however the biggest loser. The OS lost market share in all the major markets except Japan where it recorded a mere 0.1% increase.
(Source)