Is Andy Rubin's Essential Modular Phone the Snapdragon 835 Device on Geekbench?
by Habeeb Onawole Jan 15, 2017 12:08 am1
The Essential modular phone we said was being made by Android co-founder Andy Rubin might have been staring us in the face for almost a month now but we just didn't know.
Remember the Snapdragon 835 Geekbench results we posted a few weeks ago? Chances are that the device used for the test is the upcoming Essential phone. Currently going by the name Essential FIH-PM1, the device has 4GB of RAM, runs Android 7.0 Nougat, and has a Snapdragon 835 SoC clocked at 1.90GHz.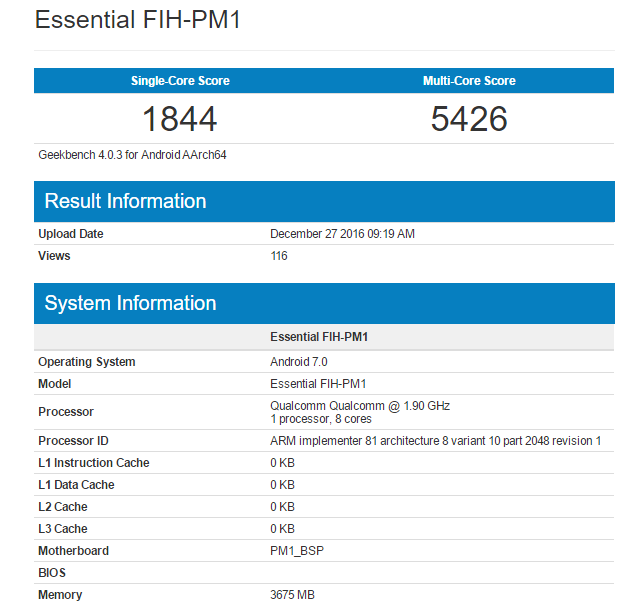 If it turns out that it is indeed the phone, then one of our questions from yesterday is already answered: the Essential phone will run Android OS. Though some folks are expecting a different OS entirely from the company, we think the decision to go with Android is better.
First, we already know the world is not ready for a new mobile operating system. Some of the popular ones are dead like Blackberry OS and Firefox OS or nearly dead already like Windows Phone, leaving us with just Android and iOS.
Second, it is going to be hard work building a new OS from the scratch and finding developers to create apps for it. The best bet will be to use a sort of emulator that lets you install Android apps, and we all know how that went with Blackberry OS 10.
So why not just stick to Android from the onset and save yourself the fate of a failed OS or a great device killed by a failed OS.
READ MORE: Meizu M5S with 2GB RAM, Octa-core Chip Spotted on Geekbench
The Essential phone is expected to be released later this year and is said to be modular in some way, have a bezell-less front and probably feature a 3D touch display. Taiwanese company Foxconn is mentioned as the contractor assembling the device and the 'FIH' in the phone's name is said to stand for Foxconn International Holdings.
(Source)