You Can Now Buy LeEco Phones and TVs on Amazon US
by Habeeb Onawole Jan 17, 2017 8:39 am5
LeEco launched in the US last year, bringing its phones and TVs to the North American country. After the launch, the company organised a number of flash sales for its phones and TVs on its LeMall website. But since the flash sales ended, the company has expanded sales of its products to other major shopping sites like Target and Best Buy.
In order to make its products available on more platforms, the Chinese manufacturer has now added online retail giant, Amazon to the list. So if you are an Amazon user, you can now purchase either the flagship LeEco Le Pro 3 or the mid-range Le S3 for $400 and $250 respectively.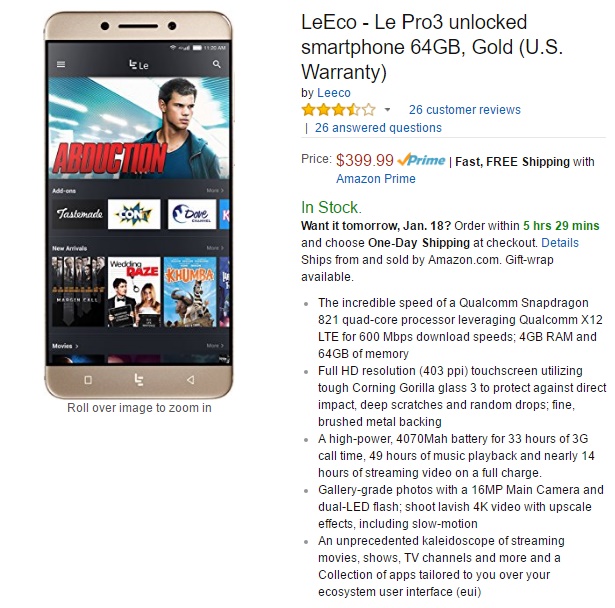 You can also pick up the LeEco 55-inch 4K smart TV for $700 and the 65-inch variant for $1100. If you want something smaller, the 43-inch variant is also available for $450.
The LeEco phones are not bad at all. The Le Pro 3 for example has a snapdragon 821 processor, a 5.5-inch FHD screen with Gorilla Glass 3, a 16MP rear camera, 4GB of RAM,and 64GB of storage. It also has a USB Type-C port and a 4070mAh battery. The only downside is the lack of an audio jack and if Apple and Motorola can get away with not having one, LeEco should too.
READ MORE: The Liveman C1 is LeEco's First action Camera
The company announced a smart bike at CES this month and says it will be available in the US. When it launches in Q2 2017, chances are it might be available for purchase on Amazon as well.