Xiaomi Mi Mix Revealed to Have Won Multiple Awards
Xiaomi Mi Mix was released last year with some innovative features which includes its near bezel-less wide screen with a high screen-to-body ratio. The design of the smartphone was also revolutionary with the smartphone getting featured on Times magazine because of its beautiful design.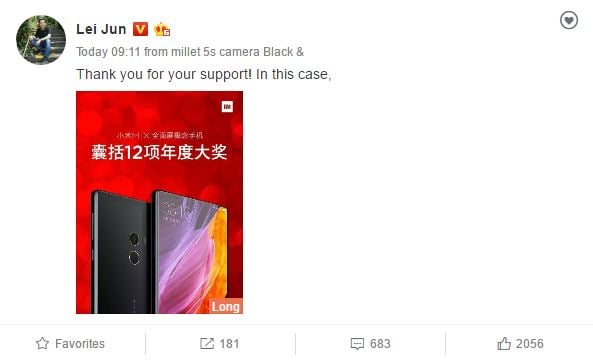 It has now been revealed by Xiaomi CEO Lei Jun that the Mi Mix also won several awards since its release both on the domestic scene and internationally because of its exceptional design which took the idea of concept phone to an all new level. Some of the awards were as recent as during the CES 2017. Lei Jun revealed this via a Weibo post meant to thank fans for their support. The poster attached to the post contained a list of media houses which awarded the Mi Mix some recognition and it includes names like PCPOP.com, Tech Advisor, IT168.com and several others. You can check it out from down below.

Read Also: Xiaomi Mi Mix 2 Leaked Renders Suggest 100% Screen-to-Body Ratio, Dual Cameras
Some of the awards comes with titles such as Annual Innovative Products, Annual Product Innovation Awards, Innovative Mobile Phone of the Year, Best Industrial Design Mobile Phone, Yearly Design Mobile Phone, Annual Innovative Product, Annual Mobile Phone of the Year, Best Of CES 2017, Annual Mediocrity Design terminator, the best innovative mobile phone design etc. Basically, they are all related to the innovative design and other innovative features the Concept Mi Mix came with.
(source)