New Galaxy S8 and S8 Plus Dimensions Released
by Habeeb Onawole Feb 1, 2017 3:43 am0
A few weeks ago, there was a leak revealing the dimensions (and model numbers) of the upcoming Galaxy S8 and Galaxy S8 Plus. The leak compared the dimensions of both devices to that of the S7 and S7 Edge respectively and gave us an idea of what to expect.
You might want to put those dimensions aside as a fresh set said to be "based upon a(n) eyewitness' account" have been released online. These new figures are entirely different and give the Galaxy S8 and S8 Plus new designs.
Samsung is ditching the physical home button in the S8 and S8 Plus and reducing the size of the bezels. Naturally, this means that the phones should have a smaller size even if it will use the same display size or a larger one.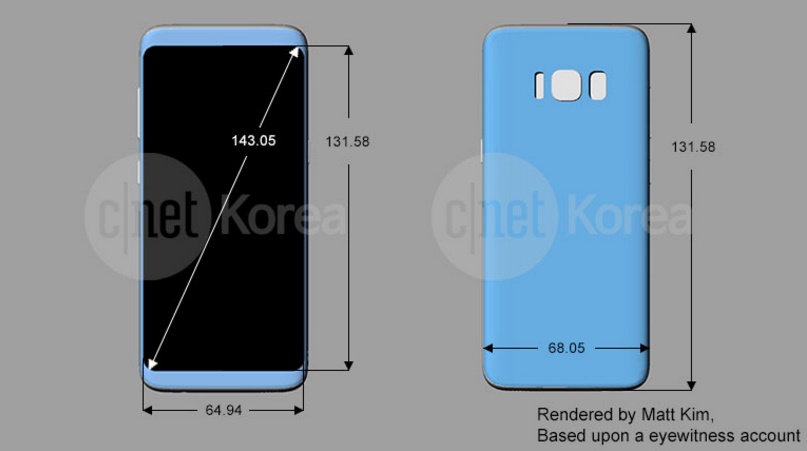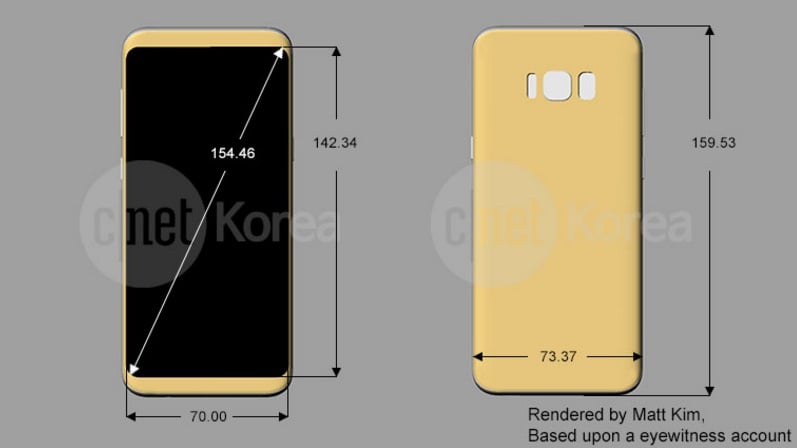 The Galaxy S8 will be 131.58mm long and 68.05mm wide even with its purported 5.8-inch display (5.6-inch flat area) according to this new render. That is considerably smaller than the S7 which is 142.4mm long and 69.6mm wide and sports a 5.1-inch display.
The Galaxy S8 Plus on the other hand which will have a 6.2-inch display (6.08-inch flat area) will be quite long at 159.53mm but not considerably wide at 73.37mm. Now compare that to the previously leaked dimensions that puts it at 152.9mm long and 78.5mm wide. It will still make for a large device but you should still be able to hold it in one hand. So we are looking at a device that will be considerably smaller than the Xiaomi Mi MIX which actually has a larger 6.4-inch display and is 158.8mm tall and 81.9mm wide but has no bezels on three of its sides.
READ MORE: Samsung's Android Nougat Update Schedule for China

It is said that these new dimensions give both phones an aspect ratio of about 18.5:9 which is similar to that of the LG G6. The aspect ratio called the Univisium format is what Netflix uses to record its TV series.
The Galaxy S8 and S8 Plus are expected to be announced in March and will go on sale in April. That is two whole months from now before we confirm if these dimensions are indeed true.