Xiaomi Mi 6 To Feature 5.2-inch Flat Display; No Curved-Screen Variant
by Habeeb Onawole Feb 13, 2017 6:12 am7
Xiaomi's first phone for the year is the Redmi Note 4X but the Xiaomi Mi 6 is actually the one fans are looking forward to. Rumors have been flying round as to what features the Mi 6 will have and which ones it won't.
One feature most people are eager to know about is the display of the Mi 6. Last year there were speculations that the phone will look like a smaller version of the Xiaomi Mi Note 2 which we all know has a dual-curved AMOLED display. Today, Weibo user @Mocha Socialist Workers has disproved the statement.
According to his post on the micro-blogging site, the Xiaomi Mi 6 will have a flat 5.2-inch 1080p TFT LCD display and not an OLED display with dual-curved edges.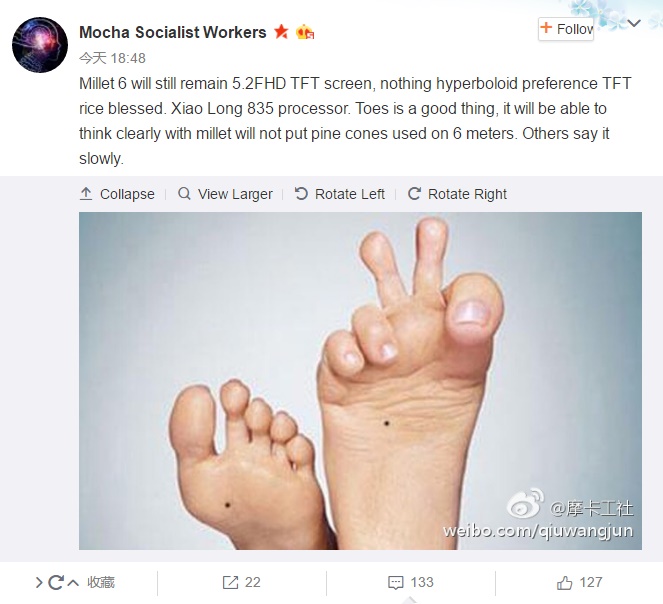 Now we will advise not to rush and swallow this statement as Xiaomi hasn't confirmed the display type of the Mi 6. The Xiaomi Mi 6 might have a flat IPS display but there is no assurance that the "Mi 6 Pro" or "Mi 6 Plus" won't have an OLED display that is curved.
Judging from what Xiaomi did with the Mi 5s and Mi 5s Plus, and the differences between the two phones and even differences between storage variants of each of the phones, You will understand why we are not quick to dismiss earlier reports.
@Mocha Socialist Workers doesn't stop there. He also clears the air on the rumor that the Xiaomi Mi 6 will feature a Pinecone processor. His post says the Mi 6 will indeed feature a Snapdragon 835 chip.
There is indeed mention of a higher-end Pinecone chip (Pinecone V970) built on the 10nm node. The chip is said to be made up of  8 cores (4x A73 cores clocked at 2.7GHz and 4x A53 cores clocked at 2.0GHz) and sports a Mali-G71MP12 GPU clocked at 900MHz. Sounds powerful but it won't be making it into the Mi 6 but might be used in the Xiaomi Mi 6s or Mi Note 3.
READ MORE: Xiaomi Phones Costlier in Indonesia: Redmi 4A is $113
Sources say the news that Samsung is taking all the available Snapdragon 835 chips is greatly exaggerated. Samsung is only getting priority as the top Android manufacturer but other early manufacturers like Xiaomi will also get their supply of the chips.