New Gear VR for Galaxy S8: May Have Single Hand Controller
by Habeeb Onawole Feb 20, 2017 8:22 am0
Samsung released the Gear VR in November 2015. More than a year later, they are planning to launch a new model for the Galaxy S8.
The new Gear VR will be spicing things up a bit. Report has it that it will feature a single hand controller like Google's Daydream View and Xiaomi's Mi VR. Another new feature is a front cover that protects the phone. The info comes from Roland Quandt who posted the details on twitter. His tweet says the new Gear VR will have model number SM-R324, picking up from SM-R323 for the original version.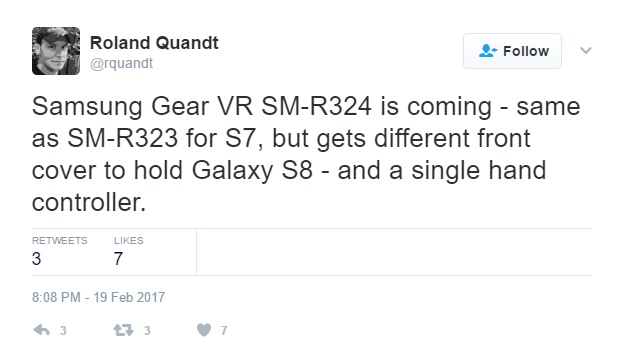 READ MORE: Average Selling Price of Chinese Smartphones Now Closer to Samsung
There is no mention of the price but chances are it might be higher than what the original sells for. The Gear VR is pried at $99.99 (¥688) and buyers still have to buy a third party controller. Now that a controller may be added, the price may increase. The Gear VR is currently more expensive than the Daydream View and Xiaomi's Mi VR.