Chuwi LapBook 15.6″ Review – A Solid Budget Laptop
Chuwi is a well-known budget tablet and laptop maker from China. I just came across their LapBook 15.6" model that has a sleek design, decent specs and it costs just about $240. I've used this laptop for quite some time and here is my full review.
UNBOXING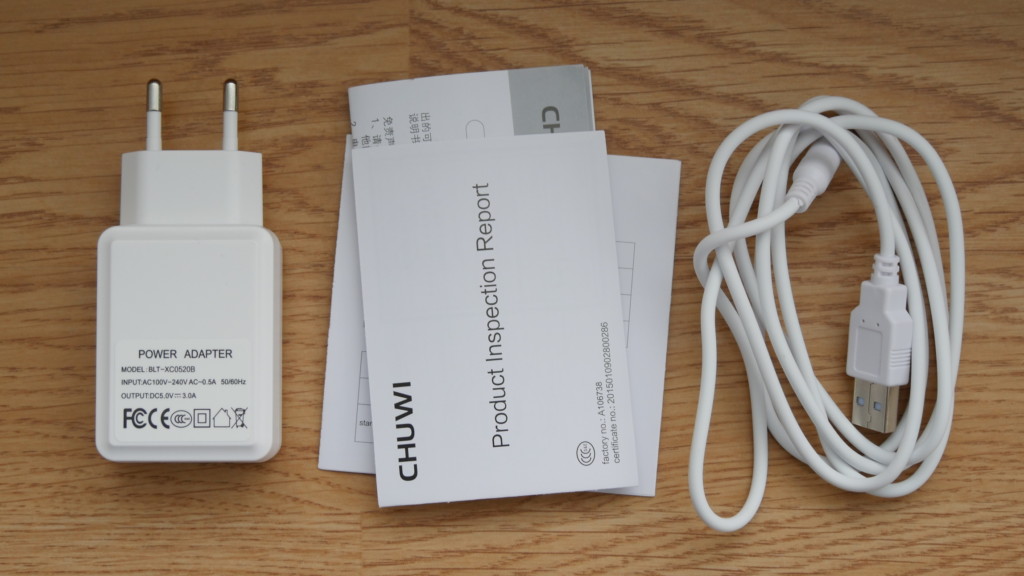 The tablet ships in quite a simple box and inside of it, you can find just some paperwork, USB brick and a power cable.
HARDWARE and DISPLAY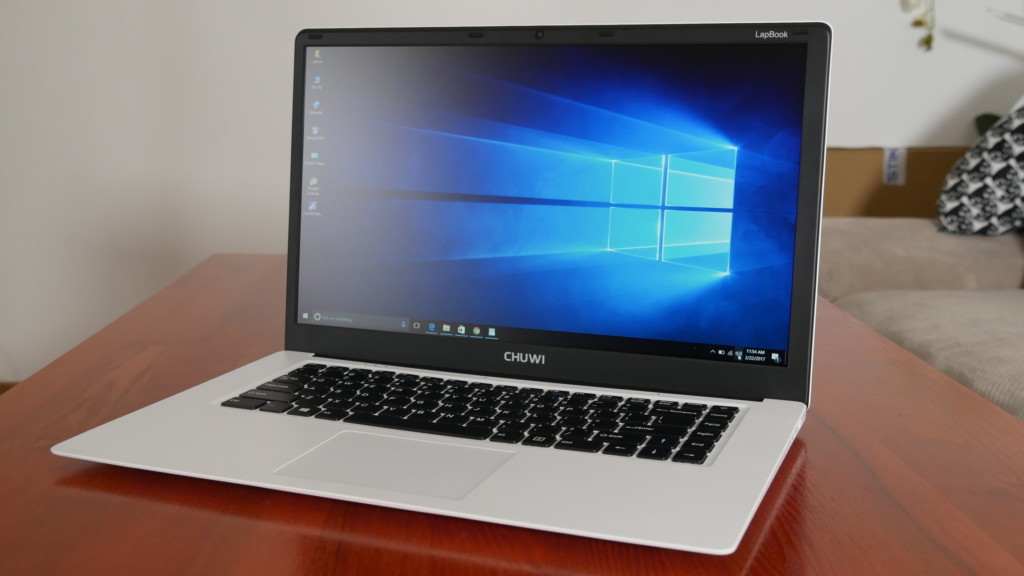 The design is one of they key selling points of this laptop, in my opinion. The LapBook is made of quality matt plastic, which is nice to the touch and it does not attract fingerprints or smudges easily.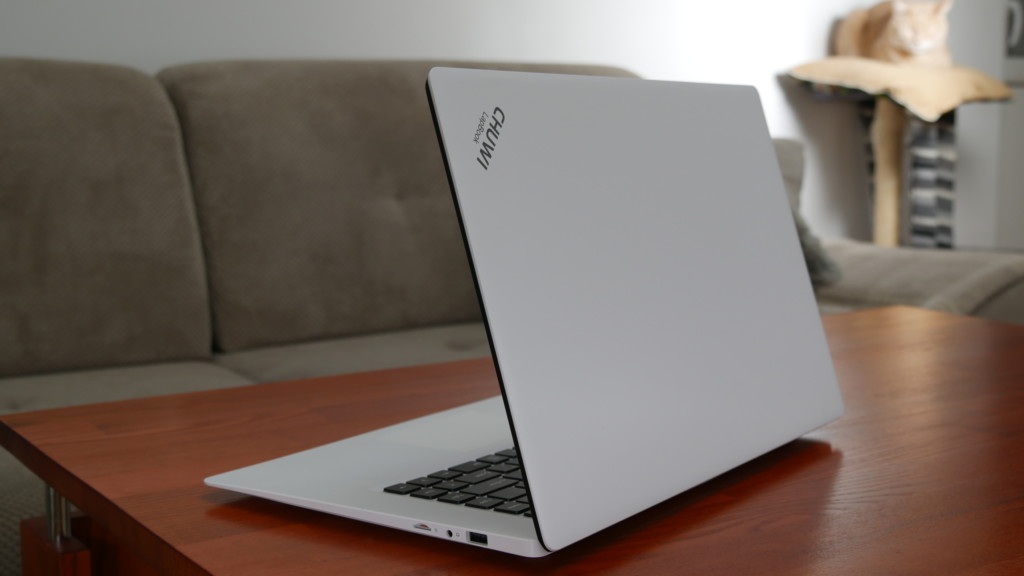 Also, I love how thin it is but it is quite heavy for an ultrabook since it weighs over 1.8kg. The weight is not an issue for me as I always prefer a larger battery pack. Chuwi implemented a 10.000mAh battery that performs just great but more on that later on.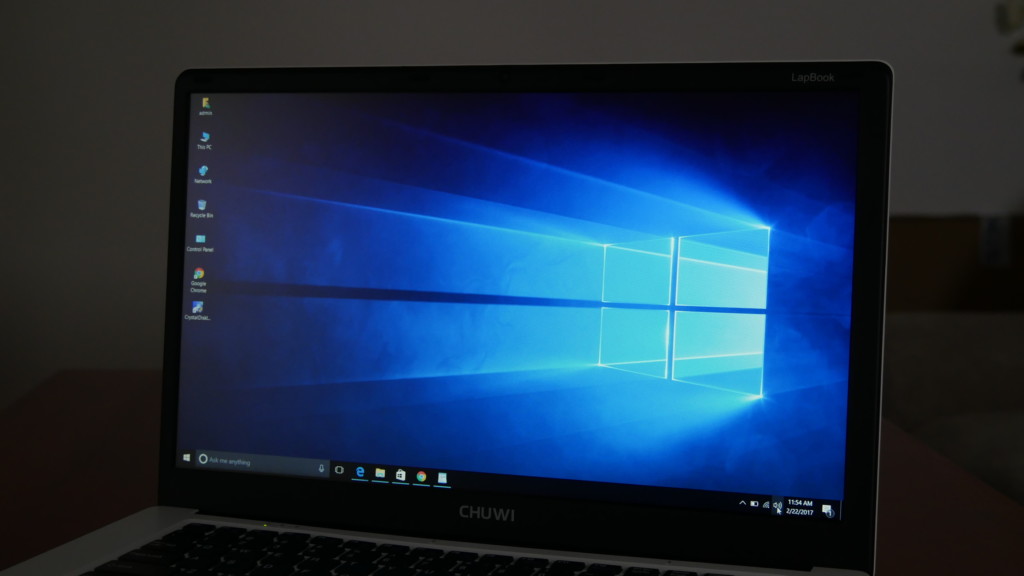 We have a 15.6" 1080p display, which is good but not great. It is pretty sharp, the colours look pretty nice and it has a matt anti-glare coating, so you won't get those annoying reflections. However, it could be slightly brighter and the vertical viewing angles are bad. That means that you will end up adjusting the display to avoid washed out colours.  Also, the bezels on the left and right sides are not equal, which may look a little bit weird at the first glance.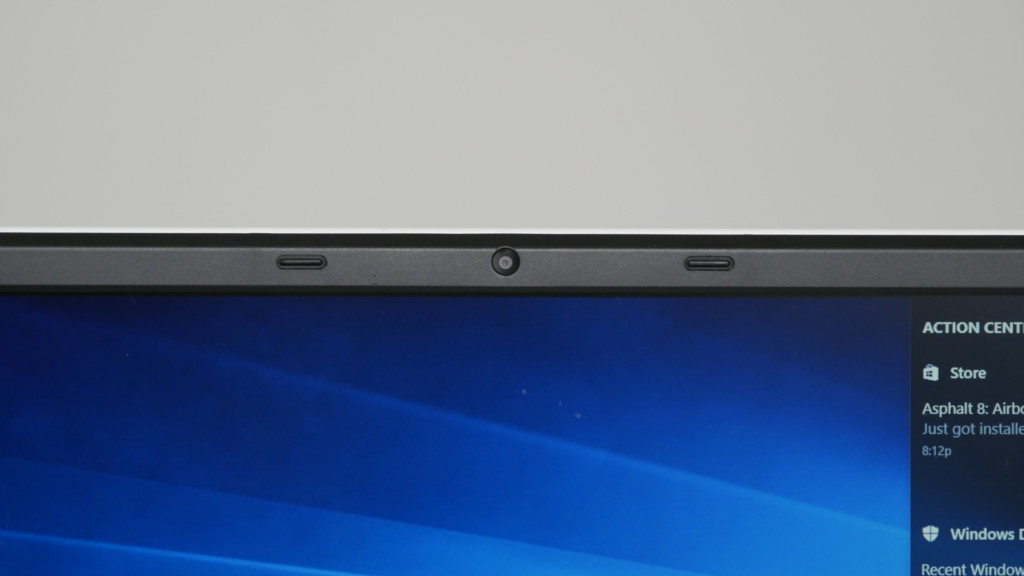 Just above the display, we have a 2MP camera, which is just okay for video chats as it supports videos of only 480p.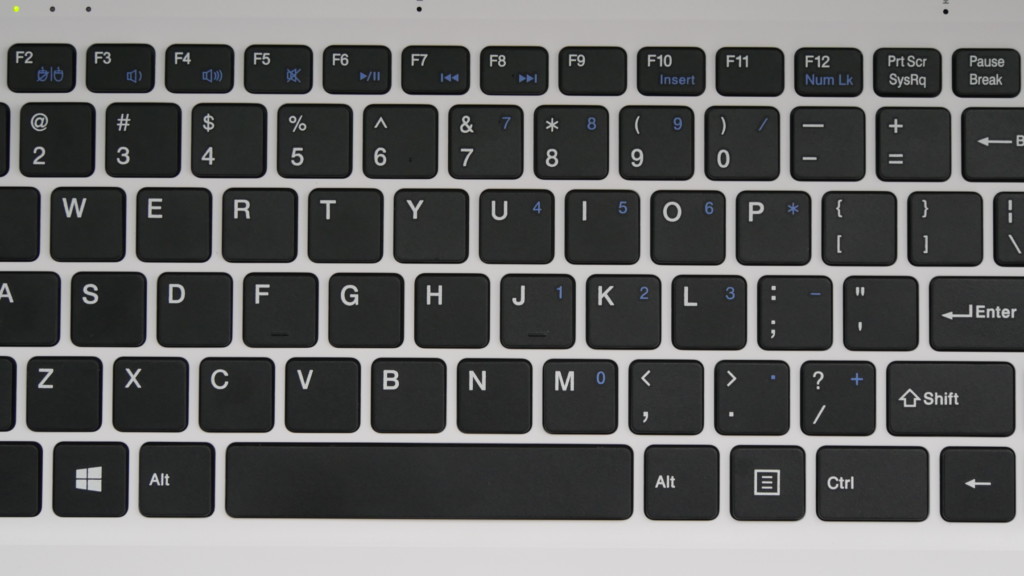 I love the keyboard on this laptop. The buttons are tactile and responsive, and it takes just a few minutes to get used to it and start typing quickly. The one thing that is missing is the screen brightness buttons.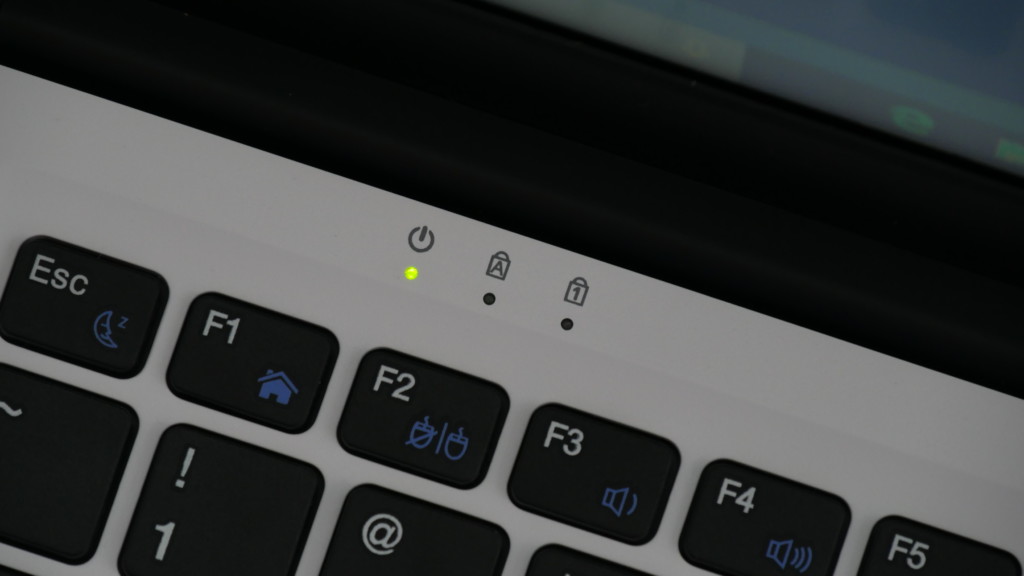 Just above the keyboard, you have two mics and indicator lights.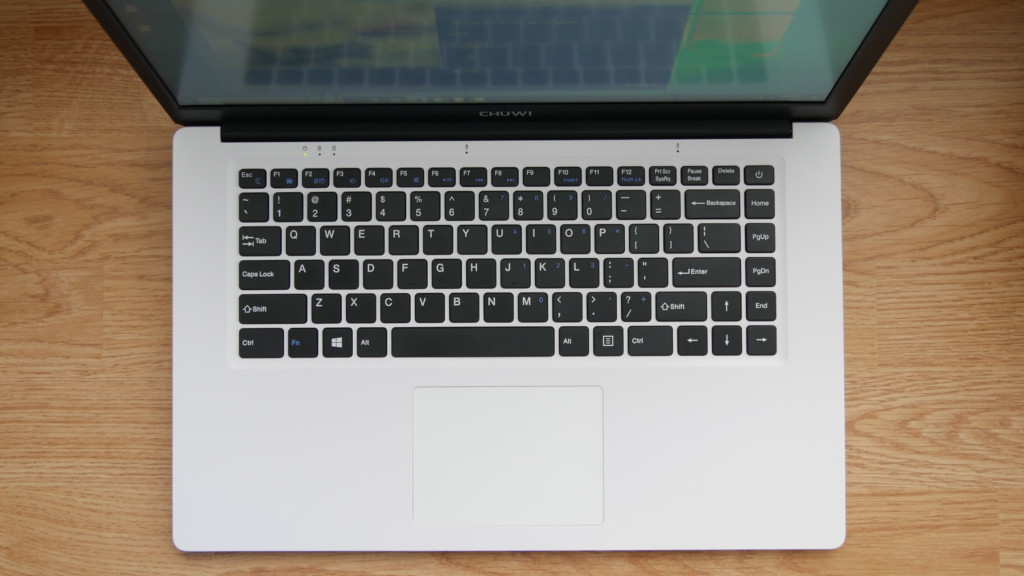 The trackpads on cheap laptops are usually bad but this one is pretty good. It supports all the Windows 10 gestures and it is responsive.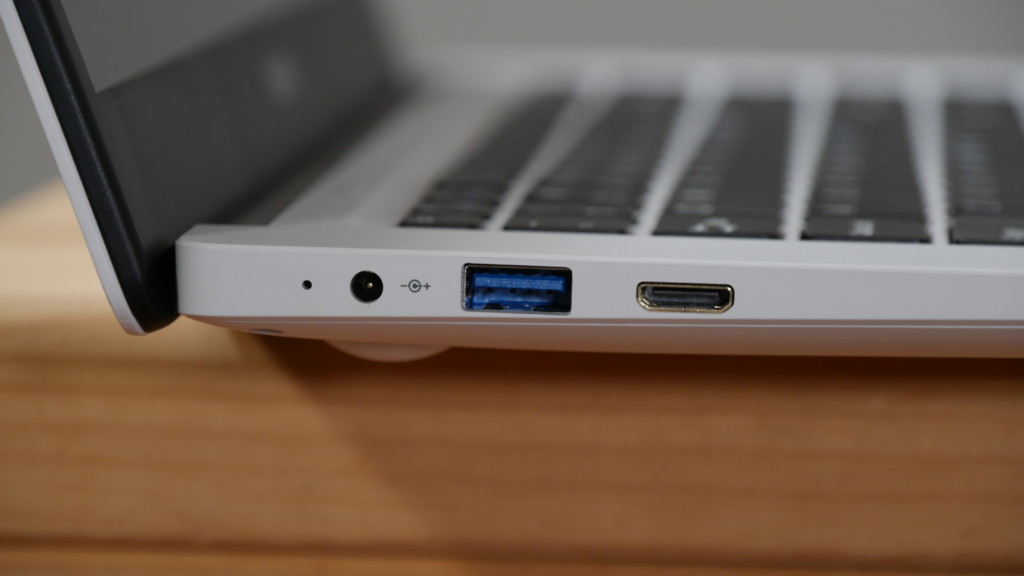 On the left, we have a DC power input, USB 3.0 port and the micro HDMI out port.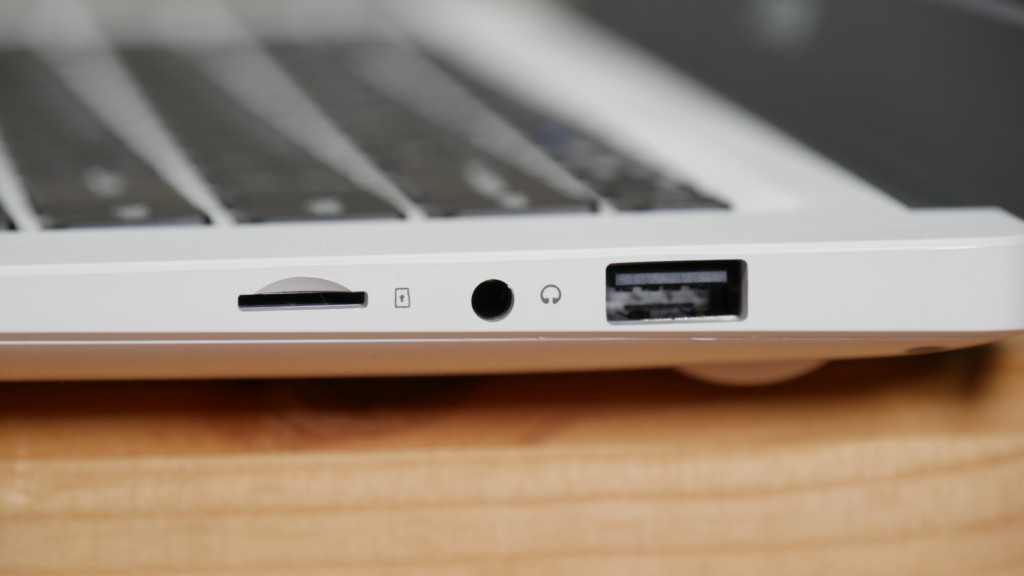 On the right, you can find another USB 3.0 port, a microSD card slot that supports cards up to 128GB and a 3.5mm headset jack. The quality of sound using a headset is decent.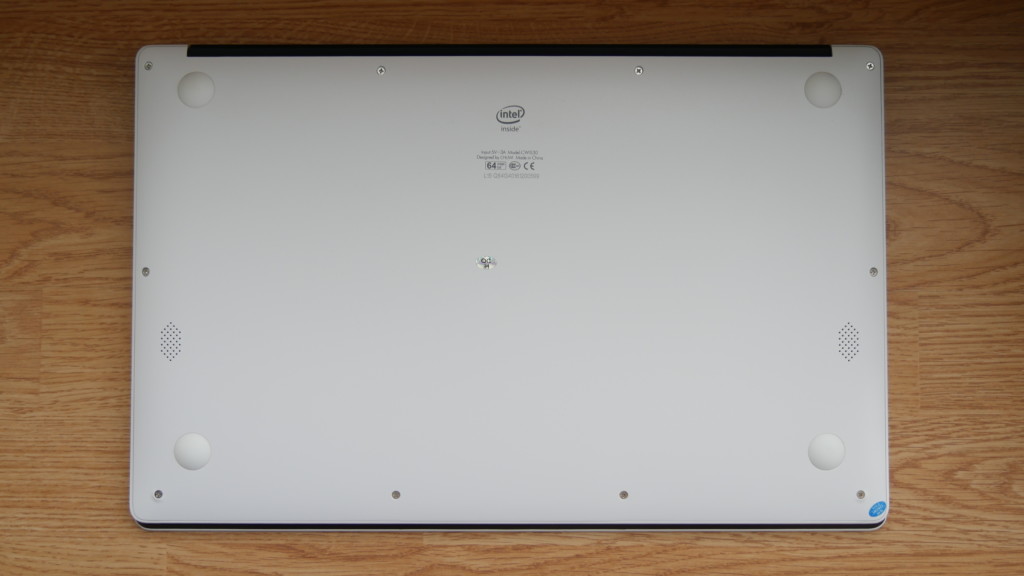 I like that the rubber feet give a good grip with the table and the laptop does not slide at all. Also, we have the bottom-mounted speakers, which are just terrible.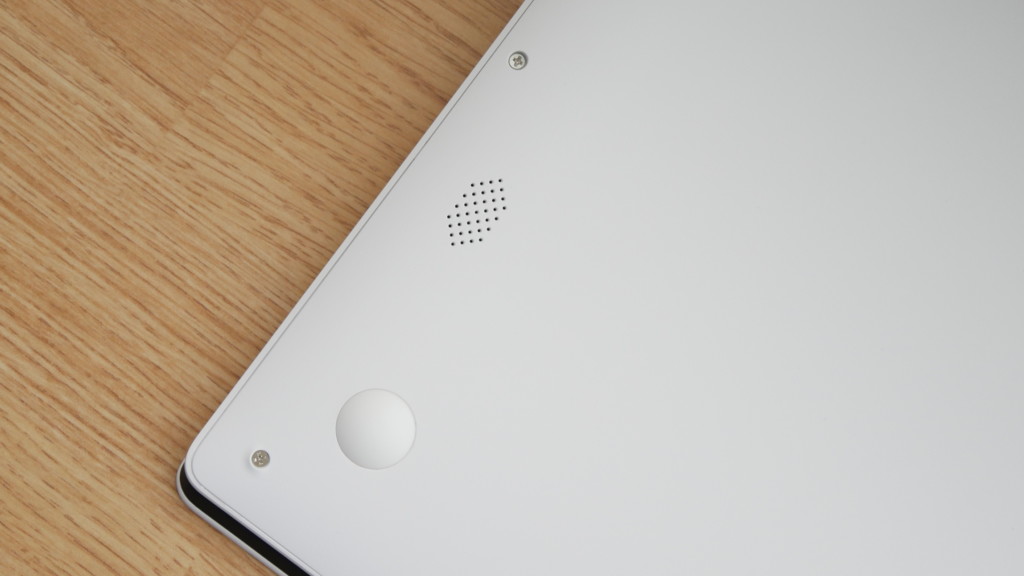 The sound is tinny, flat and to put it simply, the speakers are annoyingly bad.
SPECS and PERFORMANCE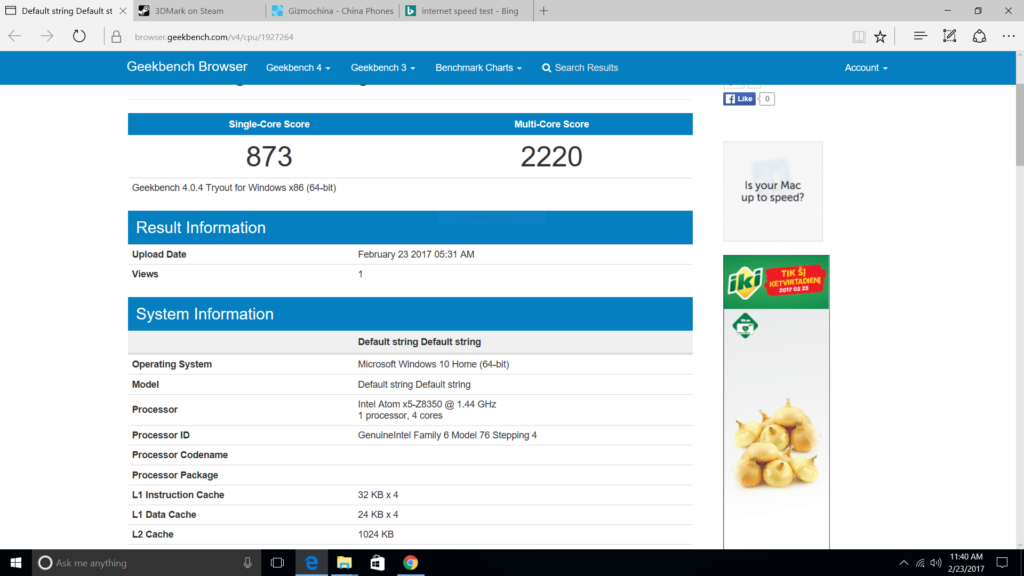 The Chuwi LapBook has a quad-core Atom Z8350 chip, 4GB RAM and 64GB of expandable storage. It's worth mentioning that the RAM is clocked at 1066Mhz speed, which is kind of slow.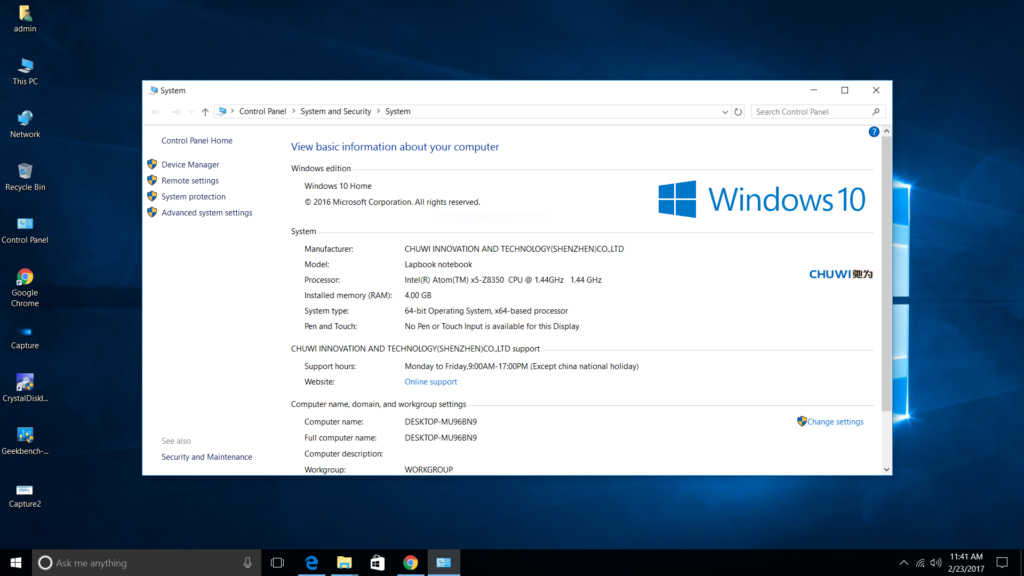 The day-to-day performance, however, is pretty good. The fully activated Windows 10 runs fine once do all the basic stuff like edit word documents, browse the web, watch Youtube videos and so on. However, I noticed that the browsing experience using the Google Chrome is a bit choppy, so I suggest using the Microsoft Edge browser.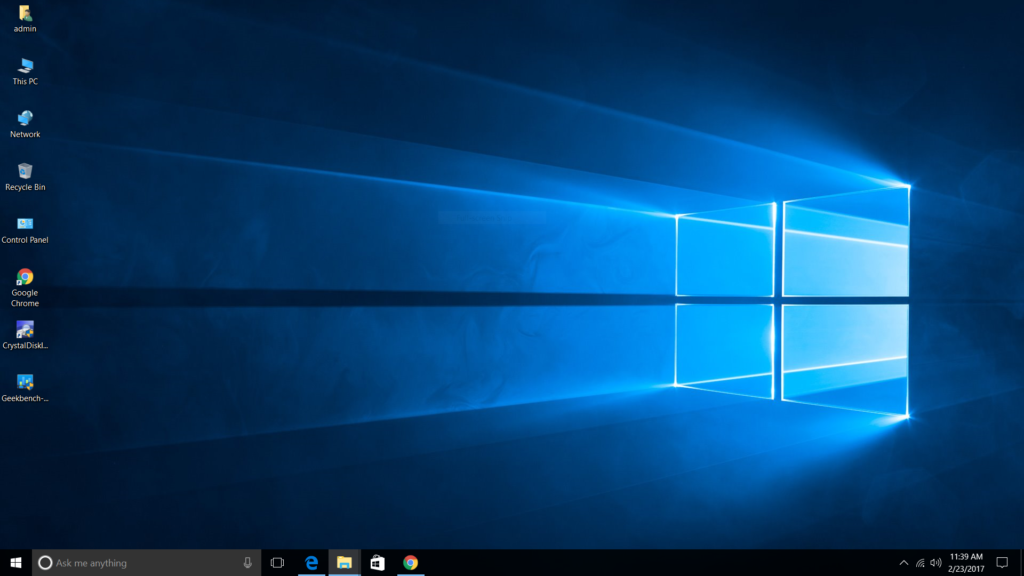 The  Atom Z83X0 chip is not designed for gamers but you should be able to run some games like Asphalt 8 without any issues if you change graphics settings to medium. Playing the same game on the highest graphics is impossible. Finally, the LapBook tends to get quite warm but I didn't notice any overheating issues like thermal throttling.
BATTERY LIFE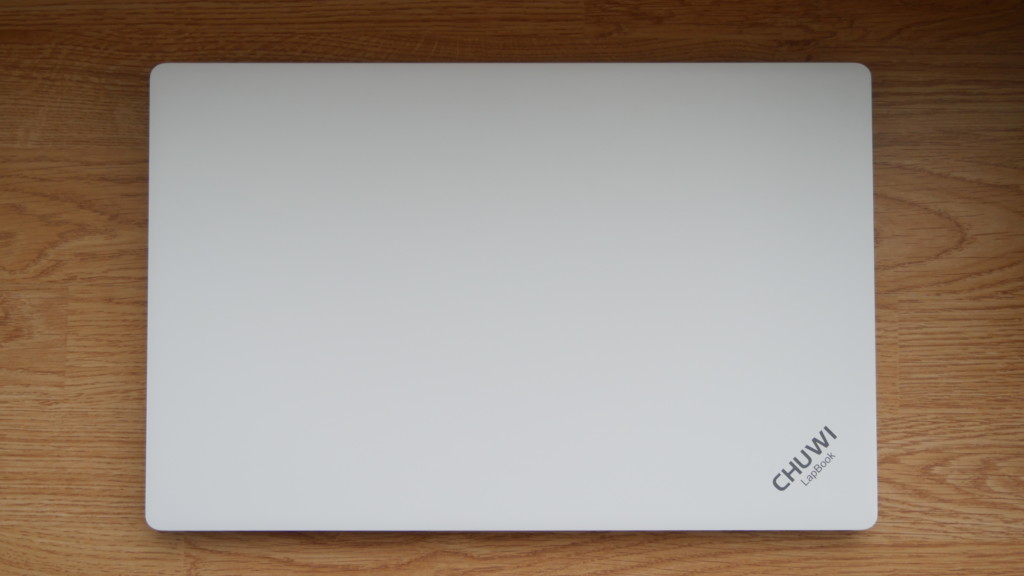 Obviously, the battery life is very subjective on laptops and it depends on your usage. I was able to get about 6-7 hours of screen on time while keeping the display brightness at 50-75% and doing just the basic stuff like browsing the web, editing a few documents, watching videos and so on. That is a pretty good result.
CONNECTIVITY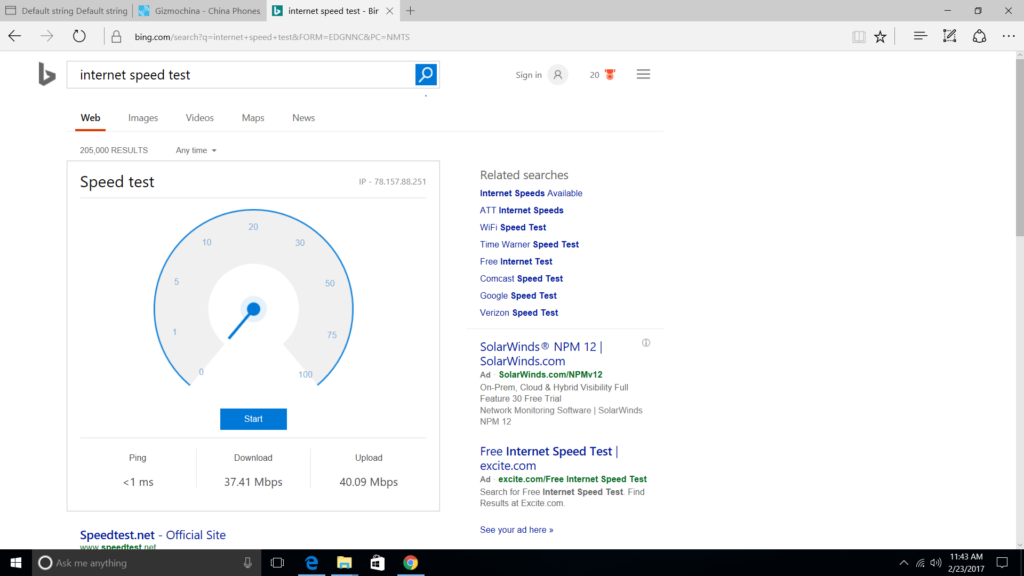 As far as connectivity goes, I have no complaints except for the fact that there is no 5GHz Wifi support. Other than that, Wifi range and speed is decent and the Bluetooth works just fine.
CONCLUSIONS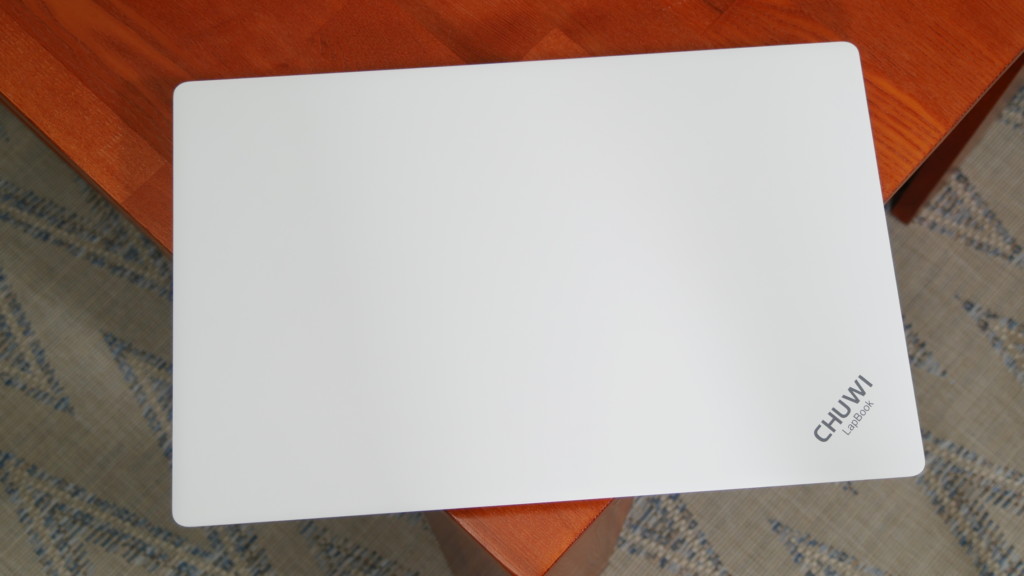 The Chuwi LapBook aims to be a great all-around budget laptop that runs on Windows 10 and it succeeds in a lot of ways.
First of all, it has a great design and build quality, the keyboard is comfortable to type on and the laptop has a large 15.6" display. While it is not perfect, as the vertical viewing angles could be better, it is a decent panel overall.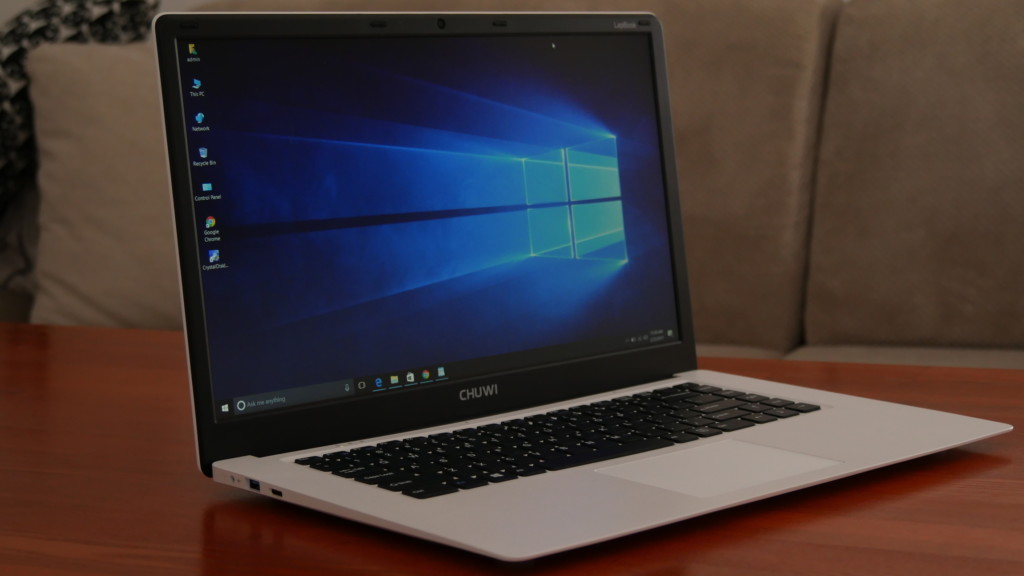 Also, I love that the laptop performs pretty well for the basic stuff that is designed for. I didn't have any app compatibility issues and the Windows 10 has quite a lot of features to play with, just like any other laptop. Finally, the battery life is pretty solid considering the size of the display.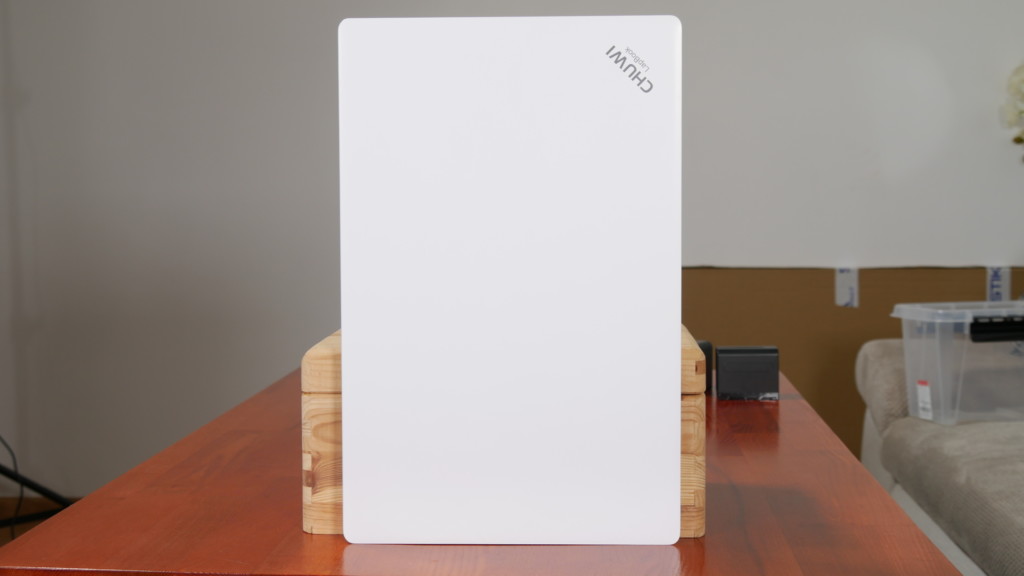 However, there are some shortcomings. In addition to the poor vertical viewing angles of the display, the external speakers are just terrible, the front facing camera supports just 480p video resolution, there is not 5GHz wifi support and finally, don't expect a great gaming performance. In other words, the LapBook was designed for neither gamers nor video editors.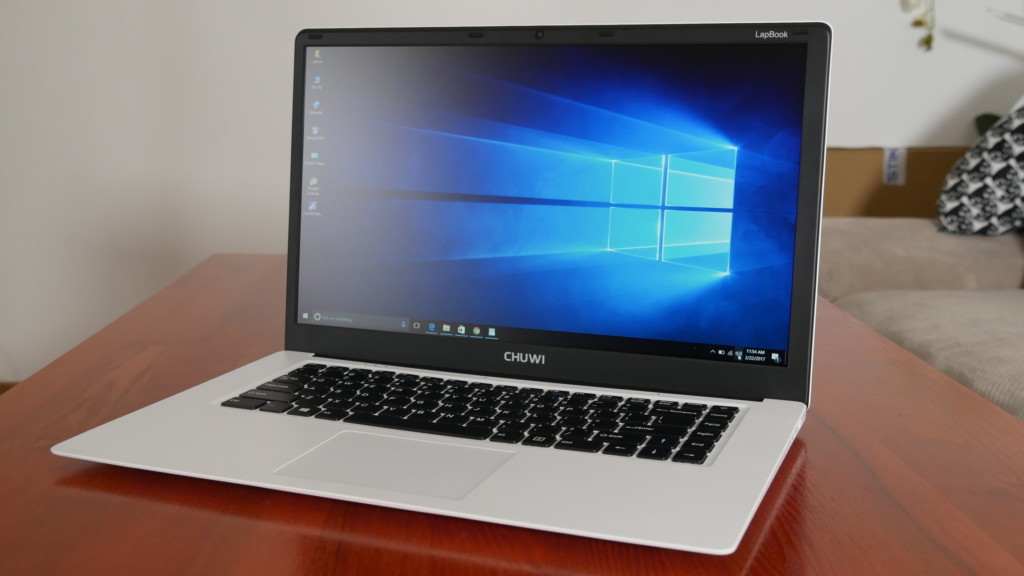 At the end of the day, every cheap laptop has to have some compromises to justify a low price tag, so does the Chuwi LapBook. I think this laptop offers quite a lot of value for the price, even with all the shortcomings. In fact, it may be one of the best options for under $250 at the moment.. but as always, it all comes to your personal preference and if these shortcomings are important to you or not.