Apple, Foxconn and TSMC Among Top Bidders for Toshiba's Flash Memory Business
by Habeeb Onawole Feb 23, 2017 8:46 am1
Toshiba plans to sell a part of its stake in its flash memory business to investors. The list of interested bidders are pretty impressive. Big names like Apple, Microsoft, Foxconn, and TSMC are all interested.
The report comes from Japanese stock market index Nikkei, which says Toshiba is asking bidders to value its operations at about 2 trillion yen ($17.6 billion) and make at least a 50% investment.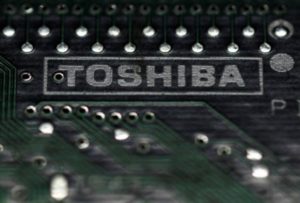 Initially, Toshiba's plan was to limit the stake to 20% or less, allowing it to retain control. But it must have changed its mind due to its financial woes. Last year the company recorded a profit of 110 billion yen ($973.5 million) during a physical year that ended in March.
Fast forward to February 14, and Toshiba announced that its net worth would drop to 150 billion yen ($1.3 billion) without swift action. The cause is said to be related to an accountancy scandal and losses from its nuclear operations.
READ MORE: Apple to Ramp Up iPhone 8 Production Three Months Earlier
Toshiba is the largest supplier of flash memory to Apple. If Apple invests in the company, it will be to its own advantage as memory shipment prices can be kept low.
Other bidders interested in investing in Toshiba include  Western Digital, Micron Technology, and SK Hynix.