Gearbest 3rd Anniversary Promotion Guide
by Shine Wong Mar 9, 2017 6:59 am2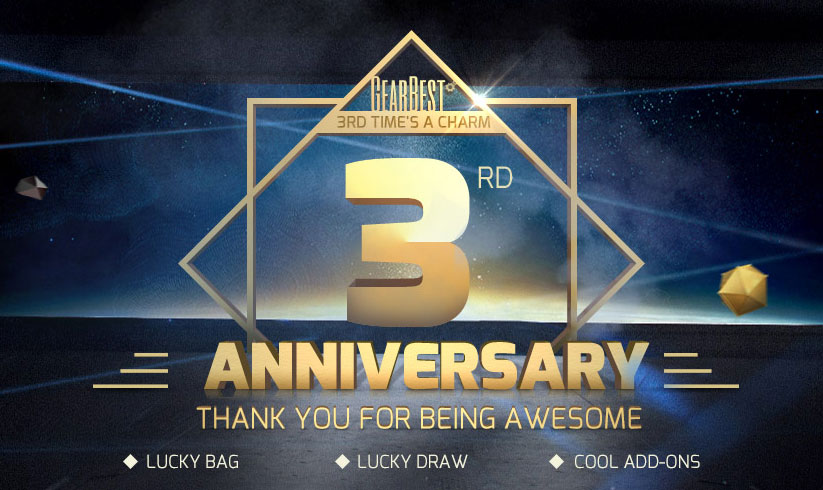 On the market for already three years, GearBest is forward to become the number one electronics reseller from China. Of course, a party to celebrate this success is mandatory. GearBest's Promotion nowadays follow the same pattern with preheat, main-event and after-party along with giveaways and coupons for extra discounts.
Inspired by other Chinese online shops, GearBest will sell Lucky Bags for $15 a piece with random surprises inside. They are the first company worldwide to adapt this event.
When does the party start?
As mentioned before, the birthday celebration is split in three main parts. All of them feature different products and discounts so it is no use to wait for a better price as the promotion is proceeding. Do not forget to use coupons along your orders and participate in giveaways to win a OnePlus 3T among other products.
The Timetable of GearBests 3rd Birthday is:
Preheat Phase: 9th – 14th of March
Main Event: 14th – 18th of March
After-Party: From the 20th of March
How to make a party unforgetable for everyone joining? Be the best host the world has yet seen and offer your guests the best experience ever. As an online shop GearBest will offer prices promising
Your favorite brands like Xiaomi, DJI or Huawei will be on board and everyone who didn't wish for a smartphone during Christmas, will no have his first (discounted) chance of the year to grab one. Obviously it is not all about smartphones and tablets and other categories will also be covered. You are an Outdoor Fan, E-Cigarette vaper or a gadget lover in general? You will definitely not be disappointed and GearBest got you covered.
On GearBest, they show you some discounts exclusively in advance. Get ready when they go live!
Hongbaos (red packages) in China are the equivalent to gift cards and are widely used during festive events or among friends. you never know how much money they hold until you open them. Same principle applies during shopping events on Chinese platforms where people buy gift boxes with random products inside. The total value can, in case you are really lucky, exceed the price by far.
during the GearBest Anniversary promotion are the same. For $15 you can buy one of these bags containing different gadgets and products from your favorite product category. If you are a quadcopter pilot you should pick the respective bag for it. Tech addicts should pick the smartphone or TV Box bags to get the best lucky bags for what you truly love. A great deal tailor made for you.. and let's be honest, who doesn't love the thrill of gambling?