ZTE Z986 with 6″ Screen, SD 625 and Android 7.1.1 Seen on GFXBench
by Habeeb Onawole Mar 9, 2017 8:01 am0
ZTE might be dealing with a lot right now like the recent fine by the US Government and the failure of its Project CSX phone, Hawkeye. In spite of that, they have managed to release some impressive devices that cater to the mid-range category. According to a sighting on GFXBench, it appears the communications giant has another device on the way.
The new phone, listed as ZTE Z986 was spotted on the graphics benchmarking site and features some interesting specifications. The new phone is for those who want that extra screen estate as it sports a 6-inch 1080p display. There is a Snapdragon 625 processor paired with an Adreno 506 GPU, so you should be able to enjoy playing games on it too.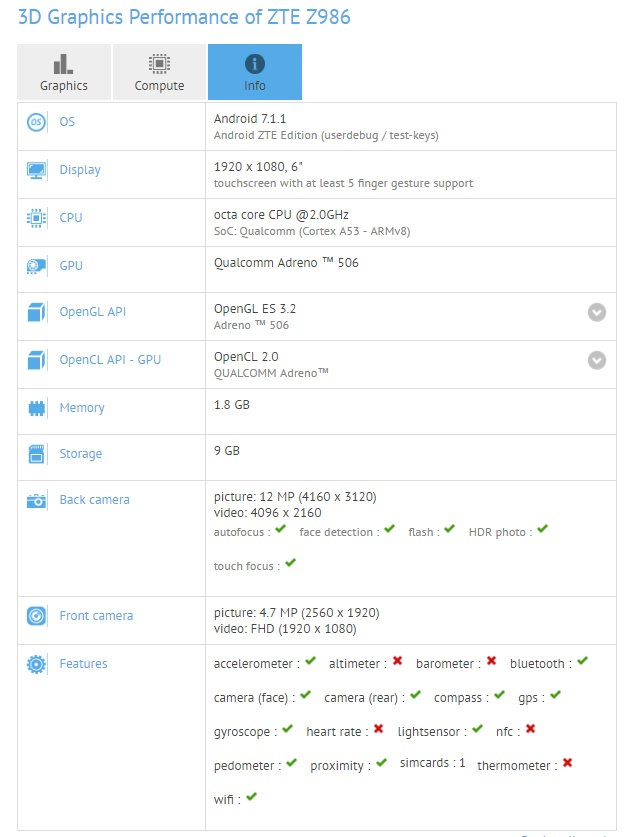 The ZTE Z986 has 2GB of RAM and comes with just 16GB of storage. There is just one SIM slot, so it is possible there is a dedicated microSD card slot. The phone has a 12MP camera on the rear that can record 4K videos and a 5MP shooter up front for selfies.
READ MORE: ZTE Gigabit Concept Phone Hands Off: When a Phone is Not a Phone
Where the device does excel is in the OS. From the spec sheet, the ZTE Z986 runs Android 7.1.1 Nougat. If the phone gets released in time, it will make it one of the few android phones to ship with Android 7.1.1 pre-installed. There is no mention of the battery capacity but for a screen as large as this, we expect nothing less than 3500mAh.
There is a possibility that the ZTE Z986 will be released in the coming weeks and if you are on the lookout for a phablet with the latest version of Android, you might want to consider it.