Meizu's First Dual Camera Phone Revealed In Shady Images, Most Likely Not Real
More mobile phone manufacturers are now embracing dual camera technology on their smartphones and this ranges from flagship devices to mid-budget smartphones. Many fans were quite disappointed with the lack of dual cameras on the Samsung Galaxy S8 or S8 Plus but Xiaomi is expected to feature such on the upcoming Mi 6. Meizu is not one to be left out of the party as a recently leaked set of images have shown what is likely Meizu's first dual camera phones.

The leaked images which originated from China's Weibo isn't very clear but we are able to see that the smartphone comes in three distinct colours of gold, green and gray. All that we get is the rear view of all three color options but the dual rear camera would likely be the standout feature on the smartphone. The dual cameras sit in a horizontal plane at the top left corner of the phone while the LED flash and what is likely an OIS is at the right side of the sensors.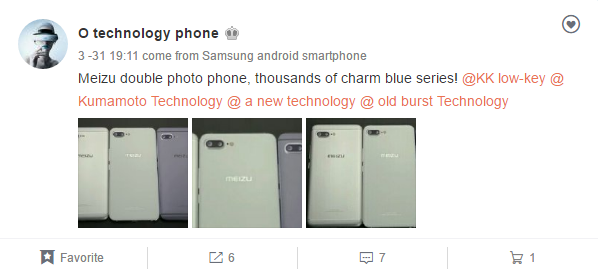 Also, the dual sensors are noticed to be of two different sizes with one bigger than the other. The main camera sensor is likely the bigger one while the supporting sensor should be the smaller one. The supporting sensor is most likely a depth of field sensor. Furthermore, the leaked dual camera smartphone also has a metal body which we could tell from the fused antenna band design which is visible at the top and bottom edges.
Read Also: Meizu Patents Full-Screen Display with Bone Conduction Technology
Now, these aren't very clear renders and given the three different designs with dual cam setup, there's a good possibility that this is the work of photoshop. The leakster probably wanted to just show off the design of the setup and not the entire back. So, if you were hoping for some real images of an upcoming dual camera Meizu device, you would probably have to wait for some more time.