Xiaomi Overtakes Samsung, Apple to Become the Most Preferred Smartphone Brand in India: Report
by Anvinraj Valiyathara Apr 6, 2017 11:11 am3
With the release of mid-range smartphone such as Redmi 3S, Redmi 3S Prime, Redmi Note 3, Redmi Note 4 and Redmi 4A, Xiaomi has managed to gain huge popularity in India. The popularity of Xiaomi in India is such that it has already outranked Samsung and Apple. A report by Strategy Analytics has revealed that Xiaomi is the most desired smartphone brand for Android users this year. Its popularity is expected to increase even more with the arrival of Redmi 4 and Redmi 4 Prime smartphones.
According to the report, a survey conducted on 2,000 users have revealed that 26 percent people in India are interested in purchasing a Xiaomi branded phone as their next Android smartphone. With 12 percent, phones from Samsung and Apple are the next preferred choices for smartphone buyers.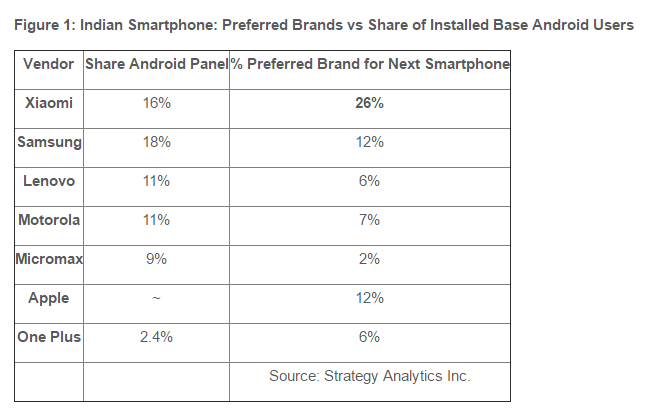 Related: Xiaomi Mi 6 Specs & Countdown Spotted, 7 Days Countdown To Launch? (UPDATED)
Previously Indian customers preferred smartphones with larger display and better camera. However, the research by Strategy Analytics has revealed customers now prefer to buy those smartphones that offer faster network speed and processor performance. This could benefit cellular network providers as they are seeking customers who prefer LTE connectivity. It is good news for chipset vendors as they are working towards migrating huge number of feature phone users in the country.
The research also suggests that smartphone makers promoting features like camera quality, megapixel and display resolution are not able to attract Android smartphone buyers in India. According to the senior analyst for Strategy Analytics, Rajeev Nair, from the time Xiaomi began selling its smartphones in India, it managed to slot itself in the top three smartphone vendors in the last quarter of 2016. Xiaomi has met with a stupendous year-on-year growth of 125 percent as well as quarter-on-quarter growth of 17 percent. In Q4 2016, it gained 10 percent of smartphone market share in India.
Nokia is slated to make a comeback between April and June in India. Its arrival can be a threat to some brands like Micromax, Sony, LG, Lenovo and Motorola.
The survey also revealed that only 6 percent of smartphone buyers in India prefer to buy high-end phones costing over Rs. 35,000 ($540). It states that half the number of smartphone customers in the country prefer to purchase smartphones priced between Rs. 10,000 to Rs. 20,000 ($155 to $308).
(source)