Xiaomi Mi 6 Specs & Countdown Spotted, 7 Days Countdown To Launch? (UPDATED)
UPDATE: Xiaomi's Mobile Phone Marketing Director, Zang Zhiyuan clarified on Weibo that this listing is not real. It was meant to be a test done by UCBrowser and the information revealed is not accurate.
Apparently, the Xiaomi Mi 6 launch is seven days away from today. That is if a leaked specs sheet of the Mi 6 which is said to have emanated from a search of the keyword "Xiaomi Mi 6" on UC browser in China is to be believed. The specs sheet shows that a seven days countdown towards the launch of the device has begun. To this end, we'll be looking at a launch around April 11 if the countdown is correct.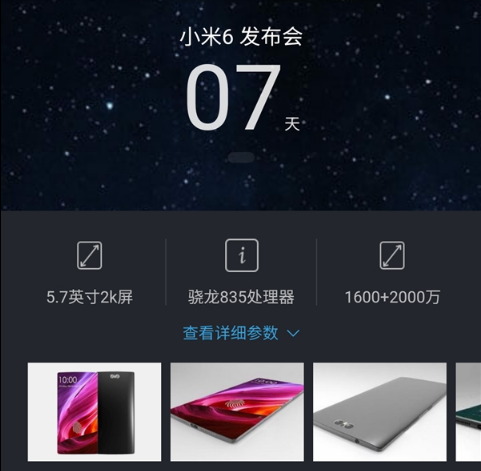 The countdown page also contains a run down of the specifications the Xiaomi Mi 6 is expected to come with and among them is a 5.7-inch 2K display which should be for the Mi 6 Plus. The device is also listed to feature the Snapdragon 835 chip clocked at 2.45GHz, as well as the Adreno 540 GPU. Other listed specs include 4GB of RAM, 32GB storage and a SONY IMX400 camera sensor.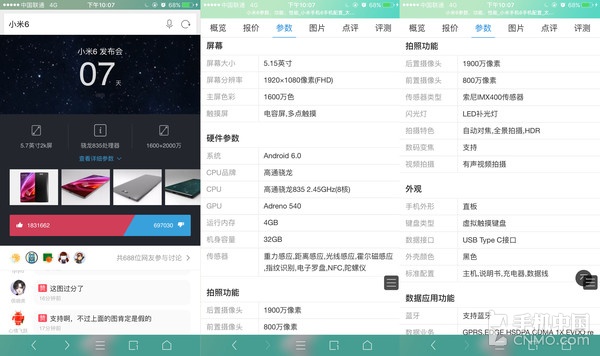 Read Also: Xiaomi Mi 6 & Mi 6 Plus Prices Leaked, Starts at 1999 Yuan ($290)
While the specs align with those that have leaked earlier on, we are not so sure about the images that were displayed along with the listing.Those are concept render of the Mi 6 that had leaked earlier so we don't think they are real. In addition, we expect the Mi 6 to come with an IP68 dust and waterproof rating and as a result, the 3.5mm audio jack may be off.A recent rumour all hinted at the likelihood of a surprise 3499 Yuan ($522) price tag which negates the 1999 Yuan ($290) we are expecting the device to start at.
(source)