Quick Charge 4+ Unveiled;15% Faster and 30% Efficient than Quick Charge 4.0
by Anvinraj Valiyathara Jun 2, 2017 6:47 am1
One of the salient features of Snapdragon chipsets are that it comes with rapid charging capabilities. Qualcomm had announced Quick Charge 4.0 feature when it introduced the Snapdragon 835 chipset in November last year. It has been only six months since its launch and Qualcomm has now its improved version called Quick Charge 4+.
Compared to its predecessor, the Quick Charge 4 offers 20 percent faster charging speed and is 30 percent more efficient. Even though a couple of Snapdragon 835 smartphones have released this year such as Samsung Galaxy S8 and Galaxy S8+, Sony Xperia XZ Premium, Xiaomi Mi 6 and HTC U11, none of them carry support for Quick Charge 4.0. The newly launched ZTE Nubia Z17 is the first smartphone to feature Quick Charge 4+.
The following image explains that Quick Charge 4+ is up to 3 degrees cooler, up to 15 percent faster and up to 30 percent more efficient than its previous version.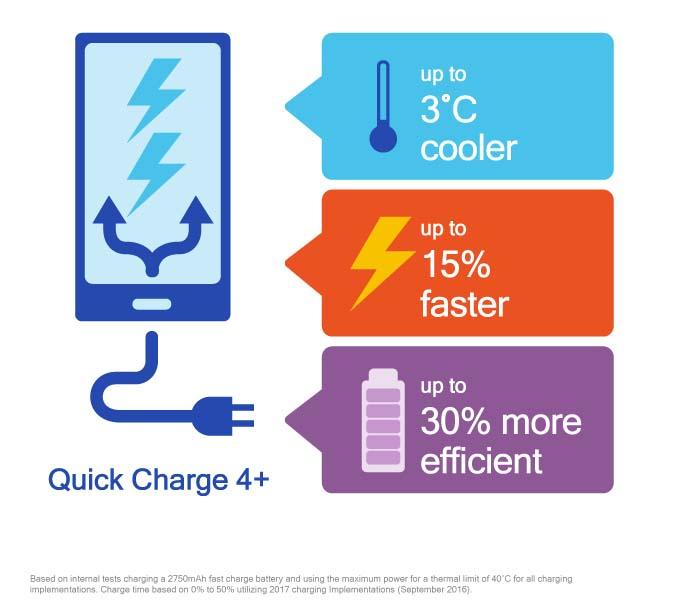 Read More: Snapdragon 845 Will Feature ARM's New Cortex-A75 and A55 Cores
The Quick Charge 4+ has all the features that is available on QC 4.0. However, it is available with three additional improvements such as:
Dual Charge:  This feature is already present in predecessor versions of Quick Charge. However, it has become more powerful in QC 4+ as it is equipped with a second power management IC. The Dual Charge feature divides the charge current which makes it possible for lower thermal dissipation and decreases the charging time.
Intelligent Thermal Balancing: This feature drives the current through the coolest path of dual charging pathways. This will help in preventing potential hot spot. This also enables optimized power delivery.
Advanced Safety Features: Quick Charge 4 has inbuilt safety protocols and in QC 4+, Qualcomm has added a feature that keeps a track of temperature levels of the case and connector at the same time. This will prevent problems like overheating and damage to the USB-C port.
Since Nubia Z17 has arrived with QC 4+, it is likely that we may soon see more flagship phones with new quick charging standard from Qualcomm. Chargers, USB hubs, power banks enabled with Quick Charge 4+ will be backward compatible with Quick Charge 3.0 and 2.0.
(source)