Xiaomi's Next Crowdfunding Product Looks Like a Huami Sports Wearable, Mi Band 3?
Xiaomi is set to launch its 86th crowdfunding product in a  couple of days time. More interesting is what the product looks likely to be as the announcement of the 86th crowdfunding product launch schedule was made by Huami, one of Xiaomi's partners. Huami's Weibo post was re-posted by Xiaomi's MIJIA official Weibo account. In case you don't know, Huami is responsible for the production of the Xiaomi Mi Band and the award-winning Mi Band 2.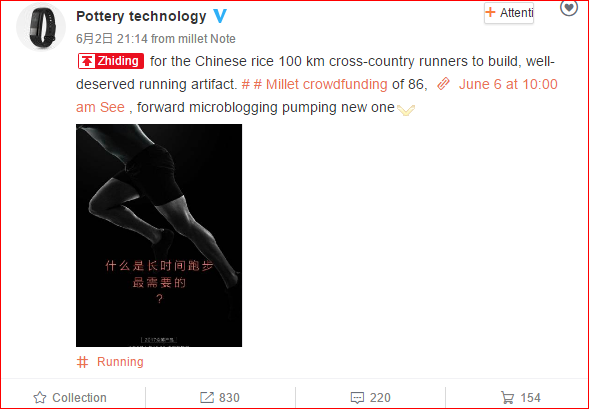 The upcoming product is still unknown but they did share a clue that points to a product which has something to do with running and sports. The fact that it is Huami's product, the product is likely a fitness or sports wearable. Huami is very well known for smart wearables such as the Amazfit range of smart watches and fitness tracker so, it will likely be an interesting product with cool features. While this product will likely be a Huami sports wearable, we are not sure it will be the Mi Band 3 as there is no indication to that effect.
Read Also: Xiaomi's 78th Crowdfunding Product – Weloop Hey 3S Smartwatch Launched
The product will go official on Tuesday, May 6 at 10 AM (CST) in China via the MIJIA crowdfunding platform. Guess we'll have to wait until the launch date to know for sure what the gadget actually is.
(source)