The Xiaomi Aqara Flood Sensor Alerts You When Your Home is About To Be Flooded
by Habeeb Onawole Jun 21, 2017 2:49 pm0
The Mijia crowdfunding product announced yesterday is a new member of Xiaomi's smart home electronics. Called the Aqara Flood Sensor, what it does is simply alert you if there is a flood in your home.
There are times when one forgets that the bathroom tap has been left running. Just when you remember, the whole bathroom is flooded and the water is starting to make its way into the other parts of the house. Other times, the cause may be a leak in the pipes. Bottom line is the house is flooded.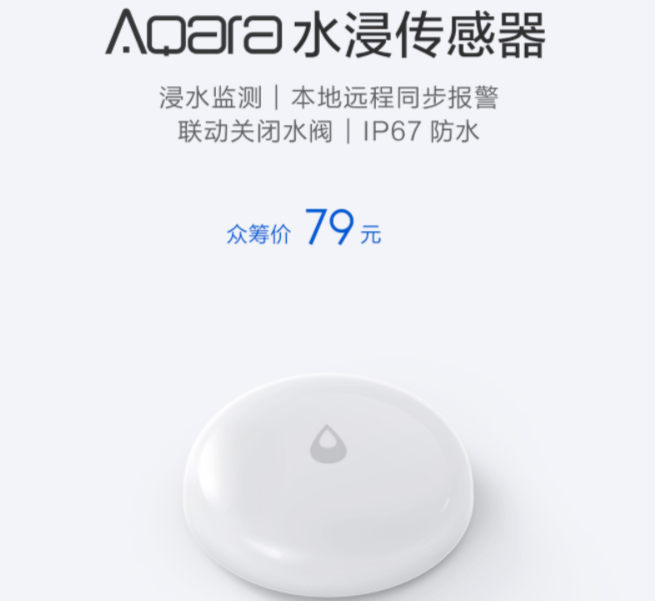 The Aqara Flood Sensor doesn't prevent the flood but can help you prevent the whole house from getting wet by alerting you in time.
The sensor which has a diameter of 50mm and a thickness of 15mm has probes that trigger a light and sound alarm when the water level reaches 0.5mm. It will also send a notification to your phone when the alarm goes off.
A neat feature it has is the ability to shut off the water valve if it is close enough. Do note that in this case, the valve has to be an electromagnetic one.
READ MORE: Xiaomi 90 Minutes Spinner Wheel Luggage Suitcase Review
The Aqara Flood Sensor has an IP67 rating and is a low power device. The replaceable battery is said to last as long as two years before needing a replacement. The sensor can be used in a variety of places ranging from the kitchen to the bathroom, or even a warehouse. Operating temperature is put at -10°C to 55°C.
The Aqara Flood Sensor costs just ¥79 (~$12) and will start shipping from August 3.