Comparison Video: OUKITEL K6000 Plus VS iPhone 7 Plus Charging Speed
In case you don't know, the OUKITEL K6000 Plus has got a massive 6080mAh battery with 12V/2A charger which is supposed to be fast and furious. One the other hand, iPhone 7 Plus has got a 2900mAh battery with 5V/1A charger.  That means the battery size of the K6000 Plus and charger are twice those of the iPhone 7 Plus. When the battery capacity and charger output are about twice of another one, how about the charging speed?
The test shows that even though the iPhone 7 Plus battery is only 2900mAh, it took more than 3 hours to achieve a full charge. On the other hand, the Oukitel K6000 Plus only took just 84 minutes to get its 6080mAh battery fully charged. In essence, if we are to use the iPhone 7 Plus' 5V/1A charger to charge the K6000 Plus battery, it would take more than 6 hours to fully charge the huge battery. Thus that highlights the difference between a quick charge charger and normal charger.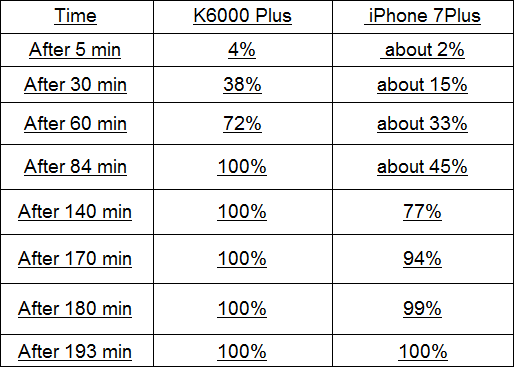 So, are you shopping for a device with enough battery power that can last for days? The OUKITEL K6000 Plus fits that description. The device is presently on flash sale on different reseller stores with various bonus offers for buyers. The K6000 Plus has been selected by Aliexpress again to join the July smartphone week at the price of $161.99. You can access the offer from here.