Mediatek Says The Helio X30 Is For Gamers
by Habeeb Onawole Jul 12, 2017 11:15 am30
As the days roll towards the launch of the first Helio X30 smartphone, the Meizu Pro7, Mediatek has taken to advertising the key features of its most powerful processor.
A post made via the chip maker's official Weibo account highlights one major feature of the 10nm SoC which is gaming. According to Mediatek, the Helio X30 supports LPDDR4X RAM.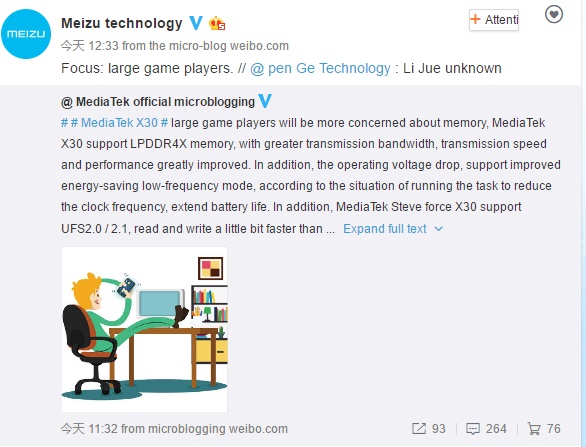 LPDDR4X allows the use of memories with higher clockspeeds but with better power efficiency. The new memory standard has a 40% voltage reduction (1.1V to 0.6V) allowing data to be sent and received at improved speeds but without draining much power.
The Helio X30 also supports UFS 2.0 and UFS 2.1. Phones with any of these storage types have faster read and write speeds compared to eMMC.
The Helio X30 is a 10nm deca-core chip clocked at 2.5GHz. It supports dual cameras, a feature present in the upcoming Meizu Pro7 and has a PowerVR 7XTP-MT4 as its GPU.
READ MORE: MediaTek And GlobalFoundries Matchup: New Entry-Level 22nm FD-SOI CPU For Low End Phones
Meizu's official Weibo account quoted the original post with a statement that loosely translates to focus on "game players". So if you enjoy mobile gaming, you may want to take a look at the Pro7 when it launches.
(Source)