Huawei Mate 10 Could Come With the Recently Trademarked EntireView Display
Smartphone manufacturers have increasingly focused on branding their technologies, in order to set it apart from competitors. Remember how Apple's Retina display was a big deal a few years back? Samsung Galaxy S8 with its "Infinity Display" and LG G6 with its "Full Vision Display" made the headlines in 2017 with its unusual screen aspect ratio. Now, it looks like Huawei is all set to follow suit with its own branding "EntireView Display".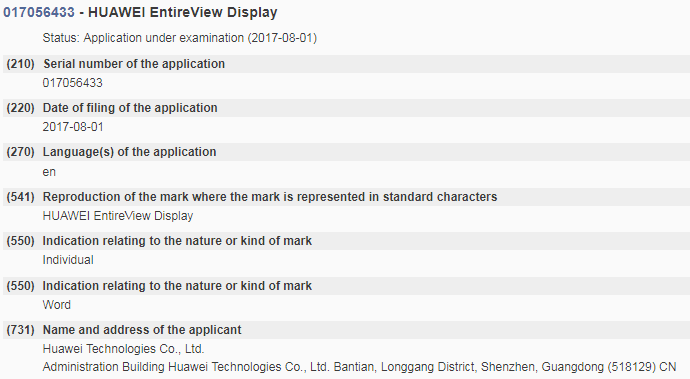 A Dutch website spotted a trademark application at the European Union Intellectual Property Office (EUIPO) by Huawei for the word, "Entireview Display". Unfortunately, the trademark application doesn't come with an image, so we are not sure how this new display will look like.
RELATED: Kirin 970 Mass Production Starts in September For Huawei Mate 10
However, judging from the previously leaked renders and the word applied for the trademark, Huawei could likely release the Mate 10 with an all screen display, similar to what we saw on the Galaxy S8. The application is still under review but it would most likely be approved sometime before the launch of the Mate 10 flagship.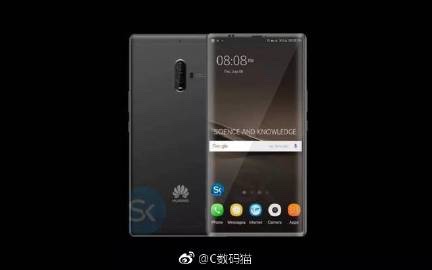 According to previous information, the Huawei Mate 10 and Mate 10 Lite models are expected to be announced on October 16. The Mate 10 is said to be priced upwards of $1000, featuring top-end specs like Kirin 970 based on 10nm process and an all screen 6.1-inch 2160 x 1080p display. The smaller 5.8-inch Mate 10 Lite model is said to cater to the needs of the regular customers, with lower specs and a cheaper price tag.