Leaked Image Shows The Pixel 2 Won't Have Thinner Bezels & Dual Cameras
by Habeeb Onawole Aug 5, 2017 11:36 am2
Thinner bezels, infinity displays, full-vision displays, and dual cameras are the key features you will find in flagships this year. However, Google is not boarding any of those trains.  A leaked image of the Google Pixel 2 shared by Evan Blass doesn't have any of those features. Instead, it shows just subtle changes from last year's model.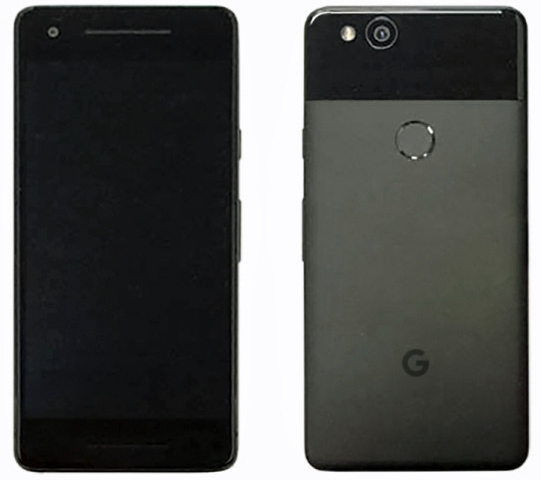 The Pixel 2 will be manufactured by HTC while the Pixel XL 2 will be made by LG. While HTC doesn't make its own displays, Google can simply have LG supply them with a full vision display similar to that of the LG G6 for the Pixel 2, but it seems Google simply doesn't think it is ready to adopt that design.
Rather the device is shown sporting equally large bezels at the top and bottom just like last year's model. The same is said for the larger Pixel XL 2.
So, no thinner bezels. But do we at least get dual rear cameras? Google is saying no once again with this year's flagships.
While there were really no complaints about the Pixel and Pixel XL not having dual cameras, we weren't expecting to see Google ditch it again this year. The Pixels' have one of the best cameras you will find on a smartphone till date, so this might be a case of "don't fix what isn't broken".
Google won't be the only manufacturer without dual camera flagships this year, the Samsung Galaxy S8 and Galaxy S8+ have the same single sensors as last year's Galaxy S7, HTC's U Ultra and U 11 also have single sensors. But while Samsung will be launching its first phone with dual cameras this month, Google won't have another go until next year.
The image above shows a larger sensor which may mean better low-light images, so that counts as an improvement. The camera's software will definitely also get an upgrade.
So what has changed in the Pixel 2? A front facing speaker. The Pixel had its speaker at the bottom which can easily be covered with your fingers when you're watching a video either in portrait or landscape mode. The leaked image shows the earpiece speaker is larger now, meaning it will do more than just pump out audio during calls. We can't see another speaker at the bottom since this isn't the sharpest of images but we will keep our fingers crossed for dual front facing speakers.
Since we already mentioned that the rear camera has a larger sensor, the other major change is the glass half of the back. It is smaller and doesn't cover the fingerprint scanner anymore. It also appears to wrap around the sides this time.
READ MORE: Head of UX At Essential Joins Google Home
Evan has also confirmed that the Pixel 2 and Pixel XL 2 won't have an audio jack and that may be the greatest change coming to the second generation Pixels.
Both devices should launch in October just like last year, so there is still a good two months of waiting time.