Lei Jun Likely Using A Xiaomi Smartphone With 18:9 Aspect Ratio, Mi Mix 2?
Xiaomi's CEO Lei Jun may have accidentally shared a key detail of the company's upcoming flagship. The CEO recently shared the news that the Mi Powerbank 10,000mAh currently priced at 79 Yuan ($12) in China was being sold for as high as 1,500 Yuan ($224) in New Zealand and thus emphasized the need for the company to spread its tentacles outside China. The thing is, Lei Jun shared a photo of the Mi Mall sales page for the Mi Power band and that is where lies the juice.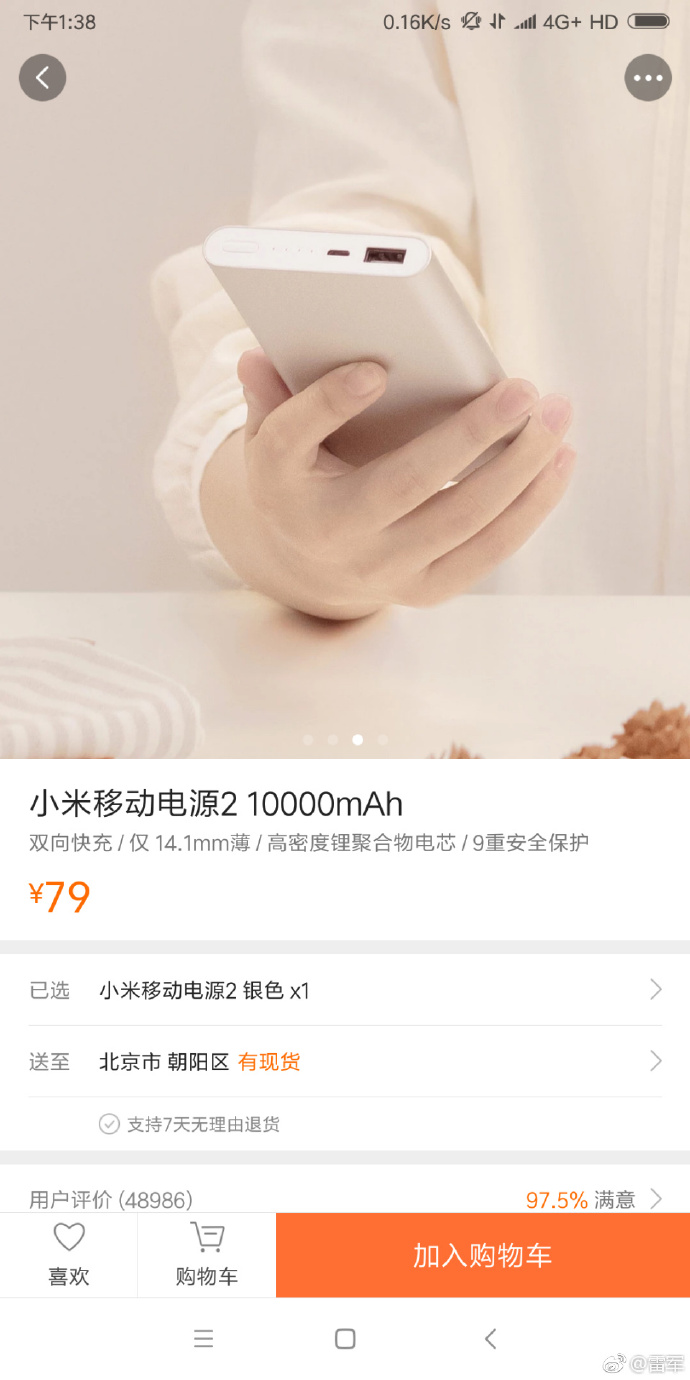 The photo was supposed to be a screenshot of the Mi Powerbank sales page on Mi Mall and it captures the entire screen of the device being used by Lei Jun.Surprisingly, the photo comes with an unusually large size especially the length. Now, the proportion of the screenshot is usually consistent with the size of the display on the smartphone and in this case, the device comes with an unusually long aspect ratio that looks like an 18: 9 aspect ratio. Even though Weibo may have compressed the resolution of the photo, the dimension will still be retained thus fueling speculations that this may be a new Xiaomi phone. Also, the phone in use isn't revealed by Weibo meaning it is an unannounced Xiaomi model.
Read More: Xiaomi Mi MIX 2 Fueled with Snapdragon 835 & 6 GB RAM Gets Spotted on Geekbench
The only Xiaomi model which is expected with an 18:9 aspect ratio is the Mi Mix 2. The Mi Mix 2 display may not really be larger in size but the screen-to-body ratio is expected to be increased to 93% as well as the aspect ratio as indicated in previous leaks. The Mi Mix featured a virtual navigation key and also uses a Cantilever piezoelectric ceramic technology which replaces the traditional earpiece. On the Mix 2, Xiaomi is said to partner with AAC technologies who will develop a better, new generation technology known as AAC actuator which would be used for the ear piece sound output. The AAC actuator is said to achieve a better screen sound, especially at low frequency. It also works better with the 3GPP standard. So, is this revelation an indication that Xiaomi will soon launch the Mi Mix2? That the CEO is testing the model? We'll find out about that soon.
(source)