Xiaomi MIJIA Teases Launch of What Looks Like A Smartphone Teardown Kit
After the launch of a smartphone, one aspect which elicits a lot of attention here on Gizmochina is the teardown aspect. Although we don't carry out the tear down ourselves in most cases, whenever one is spotted online, it is served pronto and they usually are attention grabbing topics. That is perhaps because our curious nature is always at play, wanting to find out what lies inside those beautiful models that get launched every now and then. Looks like in the near future we won't have to wait for a practical teardown session to pop up online but instead, you can do it yourself (DIY).  This is because Xiaomi is likely launching a smartphone teardown kit today August 9.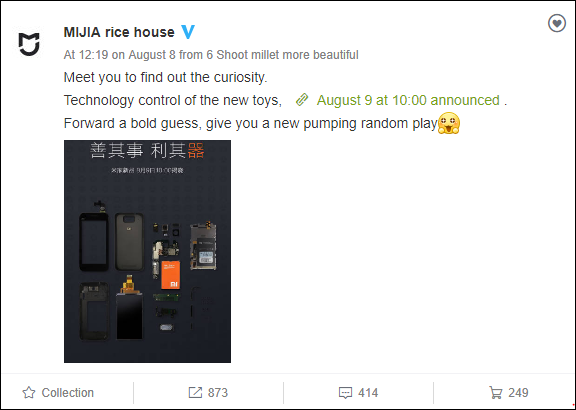 The tech giant recently shared a post on the MIJIA Weibo page pointing at a launch on August 9 by 10 AM. The product that will be launched wasn't disclosed but the poster contains a photo of a completely ripped out Mi smartphone which looks like the Mi 1, with all the components well-arranged side by side each other.
Read Also: Xiaomi Mi 5X Teardown Shows Us What Its Insides Look Like
There is no doubt the product will be a teardown kit or tool set which we believe will contain the necessary tools needed to rip apart any smartphone model. Of course, the procedure for opening up phones differ, while some are only held with screws, other are glued together in some parts just like the Honor 9 whose teardown revealed a lot of double-sided adhesives. In most cases, theses adhesives need to be removed before such models can be opened. In addition, some parts are so tiny they require special tools to be dismantled and we believe Xiaomi will put all that into consideration when setting up the tool kit. We expect the product to come with a cheap price tag in Xiaomi's usual style.
(source)