iPhone 7 Emerges As Top Selling Smartphone in Q2 2017, Redmi 4A Makes Top 5
Research firm Strategy Analytics has posted its latest research on the best-selling smartphones in the second quarter of this year and quite surprisingly, Apple's 2016 flagship- iPhone 7 came out as the top selling model. Apple commanded a string showing which saw the iPhone 7 and 7 Plus occupying the top two positions with the Galaxy S8 and S8 Plus coming in at the third and fourth spots. The leading brand, Apple iPhone 7 sold 16.9 million units while the Plus-sized version had an estimated 15.1 million units in sales.Also, Samsung is reported to have sold 10.2 million units of the Galaxy S8 and 9 million units of the Galaxy S8+.

The list contains a stunning revelation, which is that the Xiaomi Redmi 4A is the fifth best-selling model for the second quarter of the year with over 5.5 million units sold worldwide between April and June alone. The Redmi 4A is a budget model with a premium design which has seen its price drop to the sub-$100 level such that it ships to all parts of the world.  Much of that sales would likely have come from India where the model was launched earlier this year. Analysis by research firm IDC indicates that Xiaomi is the second largest smartphone manufacturer in India in the second quarter of 2017. only second to Samsung which occupies the top spot.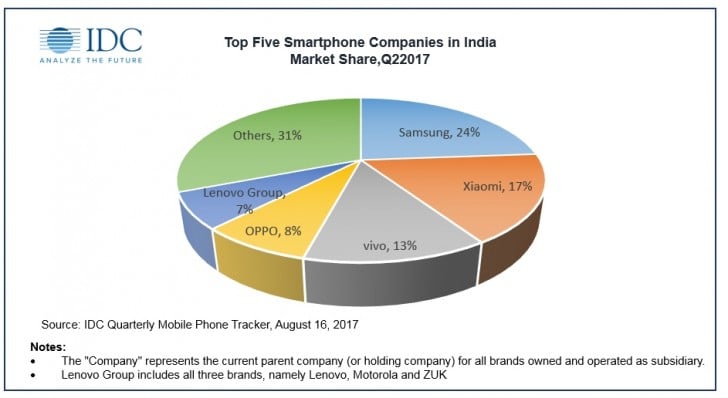 Read More: Xiaomi Redmi 4A Review: Light, Compact & Super Affordable
In all, smartphone shipments for the entire year stood at a towering 360 million units in Q2 2017 with the top 5 brands taking just a fraction of that amount. Other brands still commanded a total sale estimated to be 303.7 million units.
(source)