Samsung Galaxy Note 8's Official Camera Samples Reveal Prowess of Dual Rear Cameras
by Anvinraj Valiyathara Aug 24, 2017 5:13 am0
The Galaxy Note 8 is the first smartphone from the company that features dual rear cameras. Samsung has released the official camera samples to show the prowess of Note 8's dual camera system.
The Samsung Galaxy Note 8's horizontally aligned dual rear cameras includes a 12-megapixel wide-angle lens with f/1.7 aperture and a 12-megapixel telephoto lens with f/2.4 aperture with 2x optical zoom. Both the lenses come with optical image stabilization. No other dual rear camera sporting phone comes with OIS for both lenses. The frontside of the Galaxy Note 8 features an 8-megapixel f/1.7 aperture lens.
Like the Apple iPhone 7 Plus, the dual rear cameras present on the Galaxy Note 8 can snap photos by blurring the background and focusing on the subject. This feature is called Portrait mode on iPhone 7 Plus. On the Galaxy Note 8, this is feature is made available as Live Focus. The phablet allows the user to add the blurring effect before capturing the image. It provides a slider that can be adjusted to open f/1.7 aperture as wide as possible to get the desired blurring effect. On iPhone 7 Plus, Apple neither allows the user to edit the bokeh effect nor shows the soft focus in the viewfinder.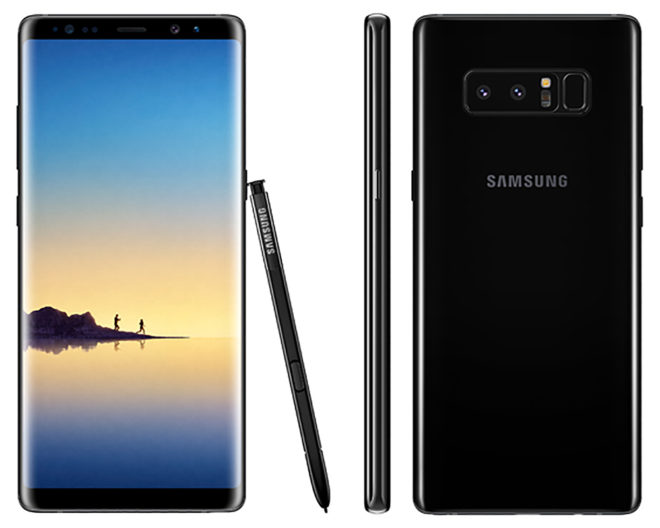 Read More: Samsung Galaxy Note 8 Revives The Phablet Lineup With Dual Cameras & Infinity Display
When the Live Focus mode is used to snap a photo, by default the Galaxy Note 8 makes use of the telephoto lens. However, there is a feature called Dual Capture that can be enabled or disabled by the user to use both the lenses to capture the same photo. After shooting a photo with blurring effect, users can also the view the same image without the bokeh effect and save it as an alternate image.
All the images shot through the Note 8 appear very clear and sharp even after zooming on them. Also, the dual rear cameras are capable of shooting impressive photos in dim-light conditions. This post includes two sets of image galleries. The first one shows the images shot using the main camera of the Galaxy Note 8 whereas the second gallery has photos snapped using the telephoto lens. Some of the images are cropped, but since they carry right amount of white balance and color reproduction, it shows the camera capabilities of the Galaxy Note 8. As of this writing, Samsung has not shared any images that were shot using the frontal camera of the Galaxy Note 8.
Samsung Galaxy Note 8 Camera Samples (F/1.7 Aperture, 12-Megapixel Wide-Angle Lens)
Samsung Galaxy Note 8 Camera Samples (F/2.4 Apeture, 12-Megapixel Telephoto Lens)