World Robot Conference Plays Host To Da Vinci & Beethoven
by Habeeb Onawole Aug 28, 2017 12:42 am1
The 2017 edition of the World Robot Conference is proof that robots are not only useful in the sciences but also in the arts.
The conference which took place in Beijing between 23rd to 27th August covered the various developments going on in the robotics world as well as their applications. For those who attended, their minds must have been blown away by three robots whose demonstrations show that the arts are not left out of robot domination.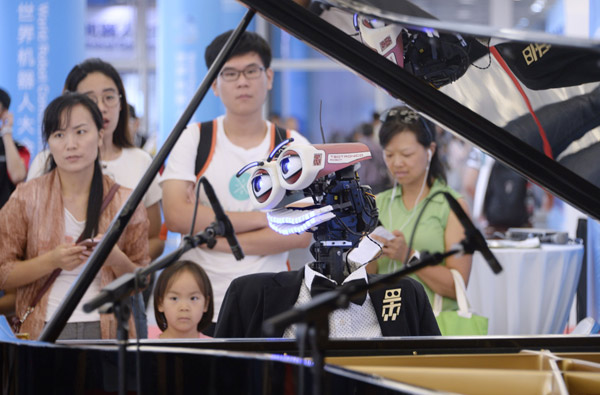 First is TeoTronico, a robot with 53 fingers dressed in a suit and tie, that performed a piece from Mozart to listeners. TeoTronico was built in Italy and can not only play the piano but can also talk, sing, and have conversations while making facial expressions.
According to Peter Chang, the Chinese representative of the company that built it, "the robot serves as a musical education assistant, giving some insight for music learners". He also said that the version at the conference is the third generation, as the fourth one in Europe can even compose music.
Another robot that made an appearance is Saidaqian, built by the Shenzhen Academy of Robotics. You could say TeoTronico is to Beethoven as Saidaqian is to da Vinci. Do note that we are not directly comparing these robots to these great men but just linking the similarities in what they do.
Saidaqian's job is to sketch portraits of visitors and it does that in about 5 minutes. Just like TeoTronico, it is dressed to reflect its profession which is a street artist. There is a peaked beret on its head as well as a pair of glasses. It also rocks a mustache.
Images to be drawn are sent to its system, once received, it begins to draw. Saidaqian can be used in galleries, museums, or malls to teach art or attract customers.
The academy said it has sold two robots, each costing ¥300,000 ($45,000) and also rents out its robots for ¥8000 per month ($1200). If you are planning an exhibition, you may want to invite Saidaqian has a guest artist. Its presence may just help boost publicity.
The last and equally interesting robot is Dobot Magician. Unlike the other two which are sort of humanoid, Dobot Magician is a robotic arm but one that writes traditional Chinese calligraphy. Yes, the Dobot Magician may help preserve this ancient work of art.
This is not the robot's first public outing as it also appeared at the 2017 Spring Festival Gala online broadcast. Dobot Magician can not only write but "can also be used for 3D printing and laser engraving" says Xiang Haibing, regional manager of Shenzhen Yeujiang Technology, the company that made it.
Now that robots are in one of the most important fields known to man, does it mean humans in that field risk losing their jobs?According to some human artists, the answer is no.
Qiu Zhijie is the president of the School of Experimental Art at China Central Academy of Fine Arts and he said "Robots don't have creativity. When an artist sees beautiful scenery, he may immediately make a sketch, paint an artwork 20 years later, or just write a poem about what he saw."
"When we see his work, we can recall his experience and be moved by his feelings". Mr Zhijie believes the same can't be said for a robot's work. That may be right for now or for things like a song or a musical composition, but for paintings it may be harder to tell if it is done by a human or a robot.
READ MORE: JD.com Tests Motorized Robot For Deliveries in Universities
Chinese painter Jia Xiaoning sums it up in a sentence. He said "The biggest difference between humans and robots is that we have life and emotions."
What do you think about robots in the arts? Should painters and composers be worried? Let's know what you think.
(Source)