Once Upon A Time, There Was A Surface Mini, But It Was Canceled
by Habeeb Onawole Sep 2, 2017 7:53 pm0
Back in 2014, Microsoft was supposed to release two tablets – the Surface Pro 3 and the Surface Mini. Unfortunately, only the former made it to the market. The Surface Mini was scrapped. Earlier this year, images and specification details were leaked online by Windows Central. Today Evan Blass has provided more images and details of the tablet.
The Surface Mini unlike the Surface Pro 3 was supposed to launch with Microsoft's made for ARM OS, Windows RT 8.1. It would have a 7.5-inch display with a 1440 x 1080 resolution and a 4:3 aspect ratio.
The device would be available in two variants – a 1GB RAM + 32GB model and a 2GB RAM + 64GB model. Both would be powered by the Snapdragon 800 and have storage expansion slots.
There would be a 5MP camera on the rear and a 2.1MP up front for video calls. Both sensors will be capable of recording 1080p. There would be two microphones and a pair of stereo speakers with Dolby sound.
The Surface Mini would have WiFi a/bg/n, Bluetooth 4.0, and a micro USB port with OTG support. It would also have a 3.5mm audio jack. Sadly, the battery capacity isn't stated.
The Surface Mini was targeted as a productivity device, so it was going to have a Surface Pen. It is even said to be the exact same one as that of the Surface Pro 3.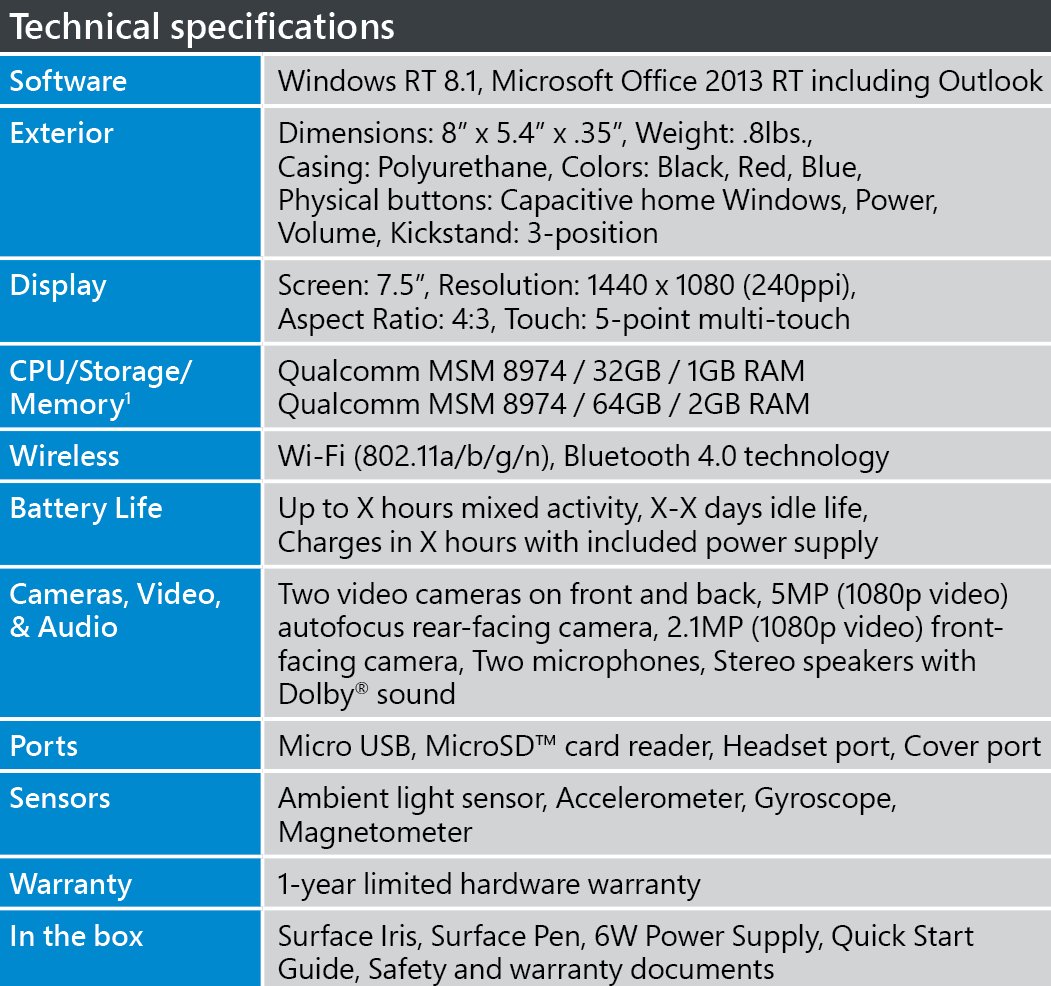 Design wise the Surface Mini would not be acceptable by today's standards. The image above shows it would have launched with thick bezels. Apart from that, everything else seems to be alright. Look t the image and it appears as if it is wearing a case. It is not. That is the body of the Surface Mini and it is described as soft and felt-like.
It has a kickstand that can be adjusted to three different positions – laptop mode but without a surface cover keyboard, a writing mode similar to the studio mode on the Surface Pro and another position in between the above mentioned ones.
Power button and volume rocker is on the right in portrait mode, and the micro USB port and audio jack sit at the bottom at the corners.
READ MORE: Windows 10-Powered Alcatel Idol 4 Pro Now Available for Purchase In The UK
The Surface Mini might have been cancelled but it would be nice to see it relaunched now that Qualcomm and Windows have announced the coming of Windows 10 ARM PCs. Upgrade the specs, give it the new pen, better cameras, thinner bezels and improve the battery life and it may become the next productivity device for students and writers alike.