Huawei Leaps Over Apple To Emerge World's Second-Largest Smartphone Company
Market research firm, Counterpoint has released its monthly Market Pulse research for the month of July 2017 and it comes with a stunner. The research showed that Huawei has for two consecutive months – June and July, surpassed Huawei has surpassed Apple in global smartphone sales. With August sales looking strong for the Chinese vendor, a hat-trick for Huawei could be on the cards but that may be short-lived as the launch of the iPhone 8 billed for this month could see Apple regaining its position with greater vigor.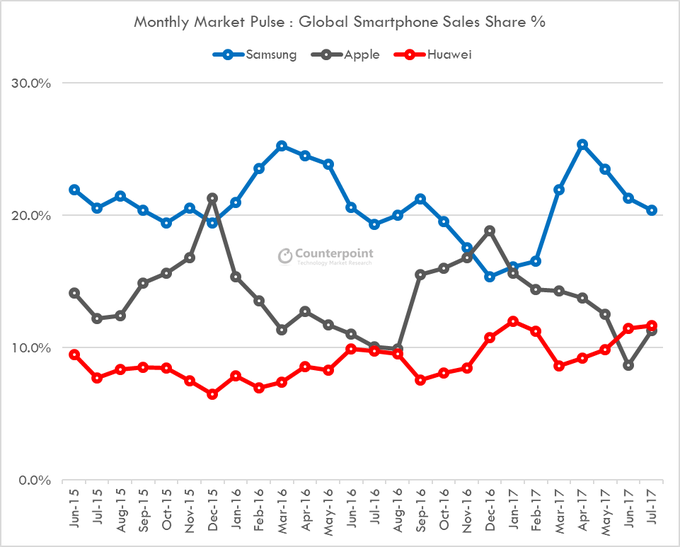 The report shows that Samsung, Apple, and Huawei are still the top three smartphone vendors in the world.  Samsung still retains its position as the global leader with a stronger showing in the month of June. Huawei moved up to the second position in June while Apple experienced a decline in its smartphone shipment. This may be due to fans waiting for the upcoming flagship models before making their purchases.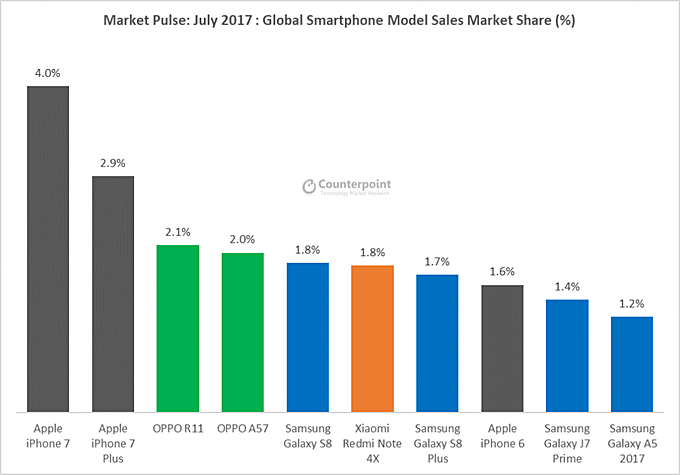 Despite a decline in overall sales, Apple still had the best-selling models which are the iPhone 7 and 7 Plus. They are closely followed by the OPPO R11 and A57 which came in third and fourth. Other devices that made it to the list include the Galaxy S8, Xiaomi Redmi Note 4X, Samsung Galaxy S8+ and others.
Related: Huawei Ships 73 Million Phones In The First Half Of 2017
The equilibrium will likely shift this September after Apple release the iPhone 8 and other models it has got in the works. But this latest result is an indication that Huawei's efforts in ramping up its global smartphone sales are yielding results gradually.
(source)