Huawei Ships 73 Million Phones In The First Half Of 2017
The results are out, Huawei's shipments for the first half of 2017 have been released and it shows the company has made tremendous progress from last year till now.  The results were reeled out on Thursday when Huawei Consumer  Business unit held a media briefing in China. In total, Huawei revealed it shipped a total of 73.01 million units in H1 2017 and this represents a 20.6% growth over last year's H1 shipments.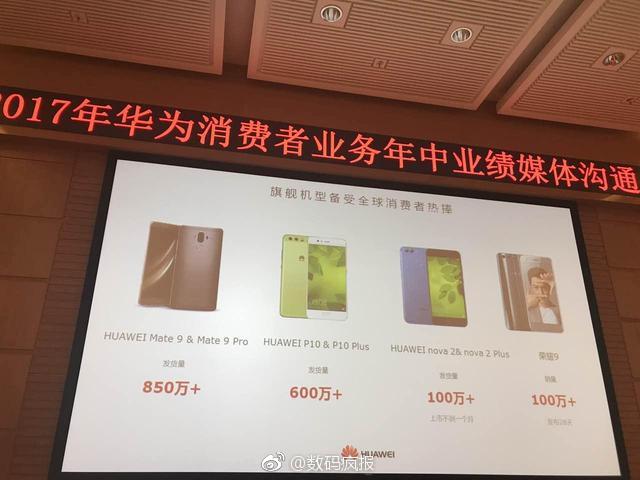 The increase in total shipments also resulted in an increase in the revenue posted for H1 2017 which stands at 105.4 billion Yuan. The revenue represented a 36.2% year-on-year increase over last year's figure. Individually, the Huawei P10 is the most popular flagship model presently and the company has been able to sell over 6 million units since it was released a couple of months back. The Mate 9 and Mate 9 Pro still command some patronage with sales standing at 8.5 million units. In the mid-budget category, the Huawei Nova 2 sprang up some surprises with over 10 million shipments, just over a month after it was released. The Honor 9 has also recorded more than a million units in sales.
Read More: Xiaomi & Huawei Make it to the World's 50 Most Innovative Companies in 2016
Huawei also disclosed that it is making progress in integrating brick and mortar stores in its sales plans in addition to offline sales. The number of physical stores is said to be 42,000 presently, a 19% increase over last year's figures. The company's popularity in various markets outside China has been on the increase and the company even predicts higher growth in the next 2-3 years.