Hugo Barra Receives Mi MIX 2 Ahead of Launch, Posts Pictures
by Habeeb Onawole Sep 10, 2017 11:57 am8
Hugo Barra may have left Xiaomi early this year for Facebook's Oculus, that doesn't mean he isn't on good terms with his former employers. After months since his last Weibo post, today He posted images of his own unit of the Mi MIX 2 sent to him by Lei Jun.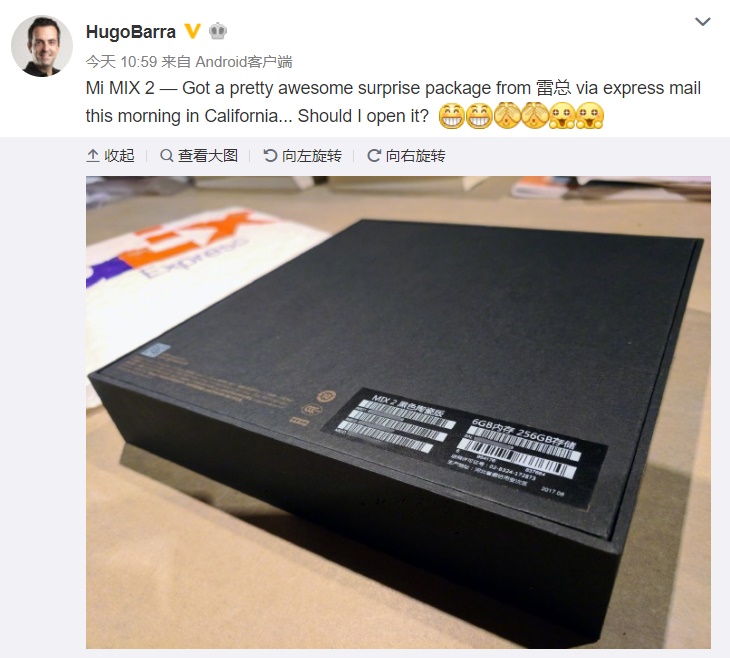 The images posted sadly do not reveal the phone itself but confirm some specification details. The retail box of the Mi MIX 2 is the same usual recycled cardboard material as that of the Mi MIX. The only difference is that it is now in landscape form and not portrait.
There is the word MIX written on the box in gold. A second image shows the top of the box off and inside is another layer of cardboard with an engraved note written and signed by Xiaomi's co-founder, Lei Jun. These images correspond to an earlier leak of the retail box we saw last week.
Hugo Barra also shares an image of the rear of the box where some of the specs are listed. The unit sent to him has 6GB of RAM and 256GB of storage. See that Chinese text at the top beside the phone's name? It translates to ceramic edition. Turns out Xiaomi is still going for the same material as the first gen and not metal as previously reported.
Another detail we can make out is the date of production which is August 2017. While this may not mean much to some people, it gives us a hint that mass production began early. So there should be enough units when it goes on sale.
READ MORE: Live Images of Mi Note 3 Retail Box Leaks, Confirms Snapdragon 660 Processor
The Mi MIX 2 is expected to launch with a 6.4-inch AMOLED display with a screen-to-body ratio of 93%. It will be powered by a Snapdragon 835 processor, have a 128GB version and a 4500mAh battery.