[GIVEAWAY] Come to Divide Up to $5000 Valued BESTEK Awesome Giveaways!
BESTEK Giveaway! Autumn is coming. Cheer up and gain the joy of harvest in bestekmall.com. Amazing free gifts and big savings are there for you to win in a pleasant way. Time is limited. Are you ready? Rush into this funny giveaway – Play the game and win prizes!

What're the prizes you can get?
Today's giveaway is a big send out of free 2-in-1 vacuum cleaners and big savings of other products for you. As long as long you participate in this activity, you can have chances to win.
Free 2-in-1 vacuum cleaners
Trapped in a messy house that you always can't fully clean up effortlessly? Then come here and bring this 2-in-1 corded and handheld vacuum cleaner home totally for free!
2-in-1 multi-functional – corded upright stick or handheld
Great Suction – never miss any dirt
HEPA and sponge filtration – lock in small particles and prevent bacteria
Lightweight – carry effortlessly around the house
Easy maintenance – with 0.8L washable dust holder and filter
6ft long cord – reach to room mess easily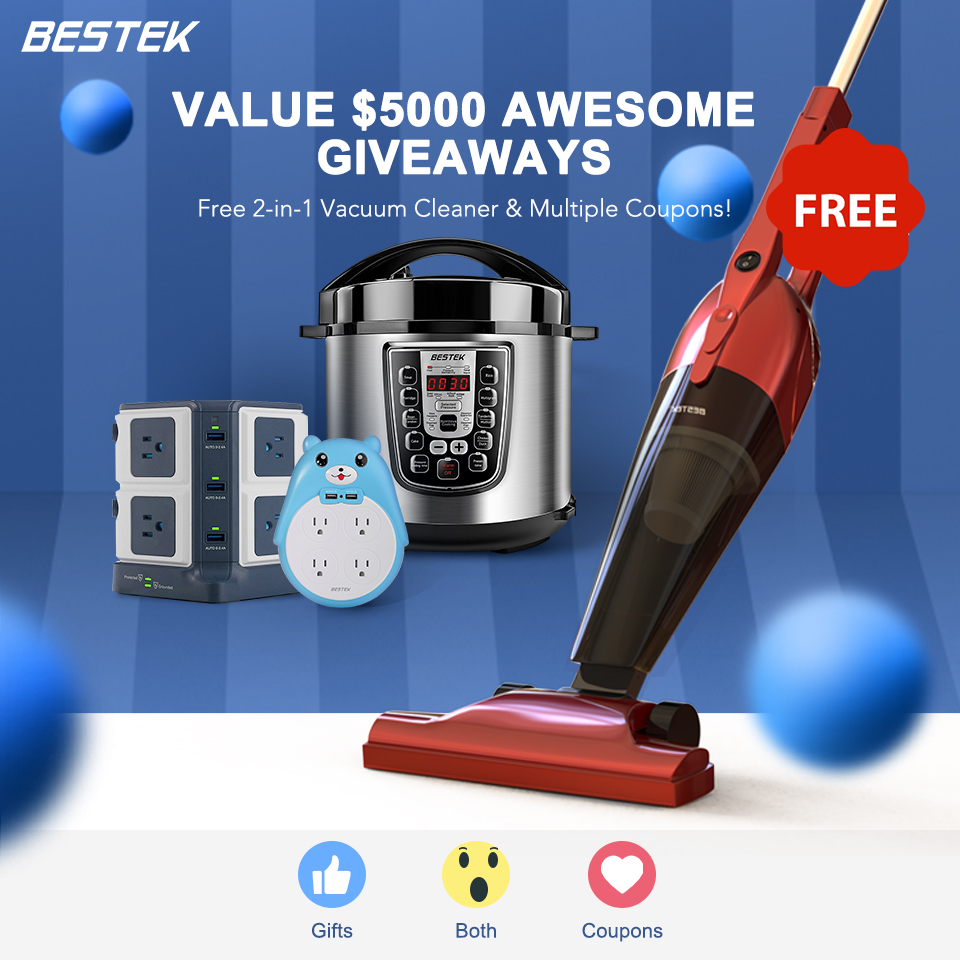 Crazy Coupons
6L Electronic Pressure Cooker – 10% off
Cordless Vacuum Cleaners – 14% off
Little Bear Power Strip – 20% off
Desktop Power Strip – 23% off
Cigarette Lighter Adapter – 30% off
How to win?
It couldn't be easier to take part in this fun activity.
Enter within a few steps:
Sign in or register on bestekmall.com
Play the game – watermelon slicing
Win a prize
Have you ever played the typical game – Watermelon Slicing? Head over to have fun in it and be a lucky dog to win prizes in a pleasant way!
Rules:
Activity only opens to the US.
Activity runs from Sep 12th 2:00 PDT to Sep 29th 2:00 PDT
If you have already registered on bestekmall.com, please log in to enter the lucky draw.
If you're a new member, please register on bestekmall.com first.
Each user will get 3 strikes to slice the watermelon.
If you don't win a prize after three strikes, share this page on your social media platforms to get more strikes (up to 5 strikes each day). Keep sharing can increase your chances to win.
All coupons are only valid during the period of activity.
The shipping cost and tax fee are not included.
Note:
All the coupons are valid during the activities. The shipping cost and tax fee are not included.
Keep sharing to increase your chance to win!
Bestekmall discourages any spam and reserves the rights to the final interpretation.
More surprise – Paste on Photo Wall and Win free gifts!
Do you want to share your happy experience of BESTEK products? Or do you want to get nice gifts totally for free? We have a new special Photo Wall page for you to share and win. You can paste photos of your buyers or screenshots of your previous sharing posts about our activities in social platforms. You can also comment on our products that you like most in bestekmal.com along with photos. The more likes your photos, screenshots or comments get, the larger chances you'll have to win. In an allotted time, three people who get the top three most likes will win our FREE 2-in-1 Corded Stick & Handheld Vacuum Cleaner!
Having a slice of watermelon still, can't quench your thirst? Come here to slice watermelons as you like and see what surprises you'll find out in your sliced watermelons. Want to win another Vacuum? Of course, you can, one of participates will also be chosen from the BESTEKFan page as the winner.
https://www.facebook.com/BestekGlobal/
If you miss this activity, don't worry. Join us on bestekmall to be a reviewer or influencer. More giveaways and crazy deals will be released every week.
2-in-1 handheld vacuum cleaner