Azdome Dual Lens Dash Cam GS65H Sold Only $79.98 on Amazon
As a power brand, Azdome has brought many surprises for people in 2017, it pushed out a new 1440p dash cam DAB211 with Ambarella chip from the start, soon after, it launched world's first dual lens dash cam GS65H, and caused a sensation in dash cam industry.
Azdome GS65H adopted Novatek96655 chip and Sony IMX323 sensor, the spec of the front lens includes F/NO. 1.8 aperture, 6G+IR lens and the spec of the rear lens includes F/NO. 2.2 aperture, 4G+IR lens, in single camera mode, the video resolution is 1920*1080P/30fps, in dual camera mode, it can reach 1440*1080/30fps+720P.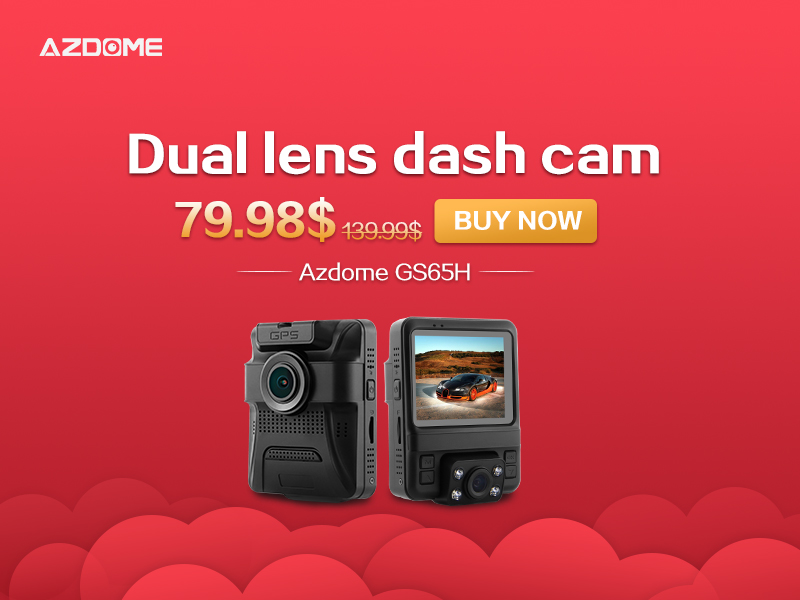 The function of GS65H is far more than these, fascinating sound effects, IR filter, HD graphics quality, unique heat emission hole design and silicone suction mount, etc, these characteristics help GS65H distinguish from the numerous dual lens dash cams. The application of IR technology helps the drivers light up the in-car environment in dark environment, which becomes a significant part in choosing the dash cam.
Azdome gives an official price of GS65H at $139.99, but now it is sold only $79.98, it can save $60 for you if now buying it on Amazon.
Now it is a rare opportunity for drivers who intend to buy a dash cam, will you miss this chance?