ZOJI Z8 With Rugged Design Inspired by Star War's Darth Vader, Now On Presale For $168.99
Chinese phone brand ZOJI, known for rugged phones, will be releasing another new model ZOJI Z8 soon. The new Z8 model is a fruit of sophisticated craftsmanship and complicated process, also, it is an innovative design inspired by the black knight "Darth Vader" in the movie "Star Wars", bringing fans closer to "Darth Vader" again. The Z8 is coming on the heels of the launch of two equally rugged models- ZOJI Z6 and Z7 in the second quarter of this year.
ZOJI Z8 durability test video.
Innovative Design: Inspired by the Black Knight "Darth Vader"
"All black armour, a cool helmet, a flowing cape and an elongated, skull-like mask, a shining light-sabre, the tall and mysterious. " That's what Darth Vader looks like, and also the inspiration for designing the ZOJI Z8.
Driven by High-tech: Combination of Hi-tech and Futuristic Sense
Simple and stylish edges, the elaborate component distribution like each button, light, sensor, as well as the vein on the phone body, even the decorative accessories, all make the overall figure appear with the sense of future and technology!
Different Image for your option
ZOJI Z8 will come in Space Black, Vibrant Orange, and Army Green. With the "Darth Vader" design philosophy originally, just imagine how it will be if putting on an orange and green cloak.
Sophisticated Craftsmanship: Crafted Item through Complicated Process
ZOJI Z8 is an elaborate evidence of good craftsmanship. Each edge of the frame is with the metallic coatings to be glossy. The side buttons are made with Zine-alloy via CNC as well as specular oxidation technology. The back cover, as well as the side frame, are all designed with textured patterns. Every part of the phone is finally created through a complicated processing.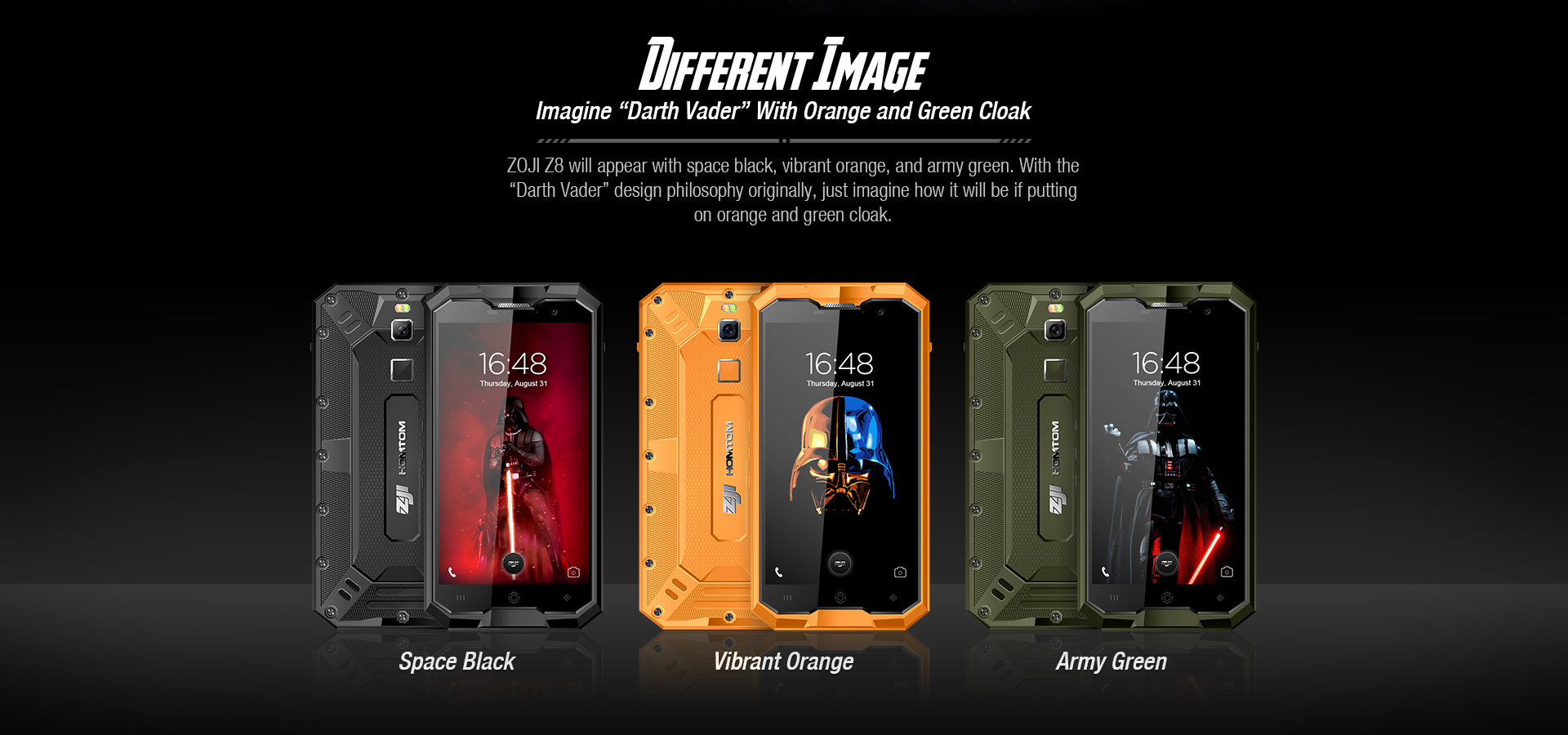 Designed for Toughness: Too Invincible to be Destroyed
Inspired by "Darth Vader", driven by hi-tech, a crafted item through a complicated process, ZOJI Z8 is indeed designed for toughness! The firm structure design, the good sealing performance, matched with the waterproof components and the robust material, all help build a strong protection for the phone itself. It meets the IP68 highest waterproof and dust-proof standard; it uses the G+G Corning Gorilla Glass 4 with multiple touches. Design for toughness!   
Share the Power: OTG Function Enables the Power to Be Shared
The ZOJI Z8 features the OTG function, which allows the phone to function as a charging station to share the power to other devices and also to transfer data between devices.
Powerful Inside: MT6750 Octa-core Processor
Configured with MediaTek MT6750 octa-core 8x ARM Cortex-A53 1.5GHz CPU, ARM Mali T860 [email protected] GPU, the ZOJI Z8 is a 5.0-inch HD rugged phone not only outstanding in its unique design, but also excellent in its wonderful performance.
Power Bank: 4250mAh Li-Ion Polymer Battery
The non-removable 4250mAh Li-Ion Polymer battery can store sufficient daily power for the phone, enabling you to be connected with outer world via the phone.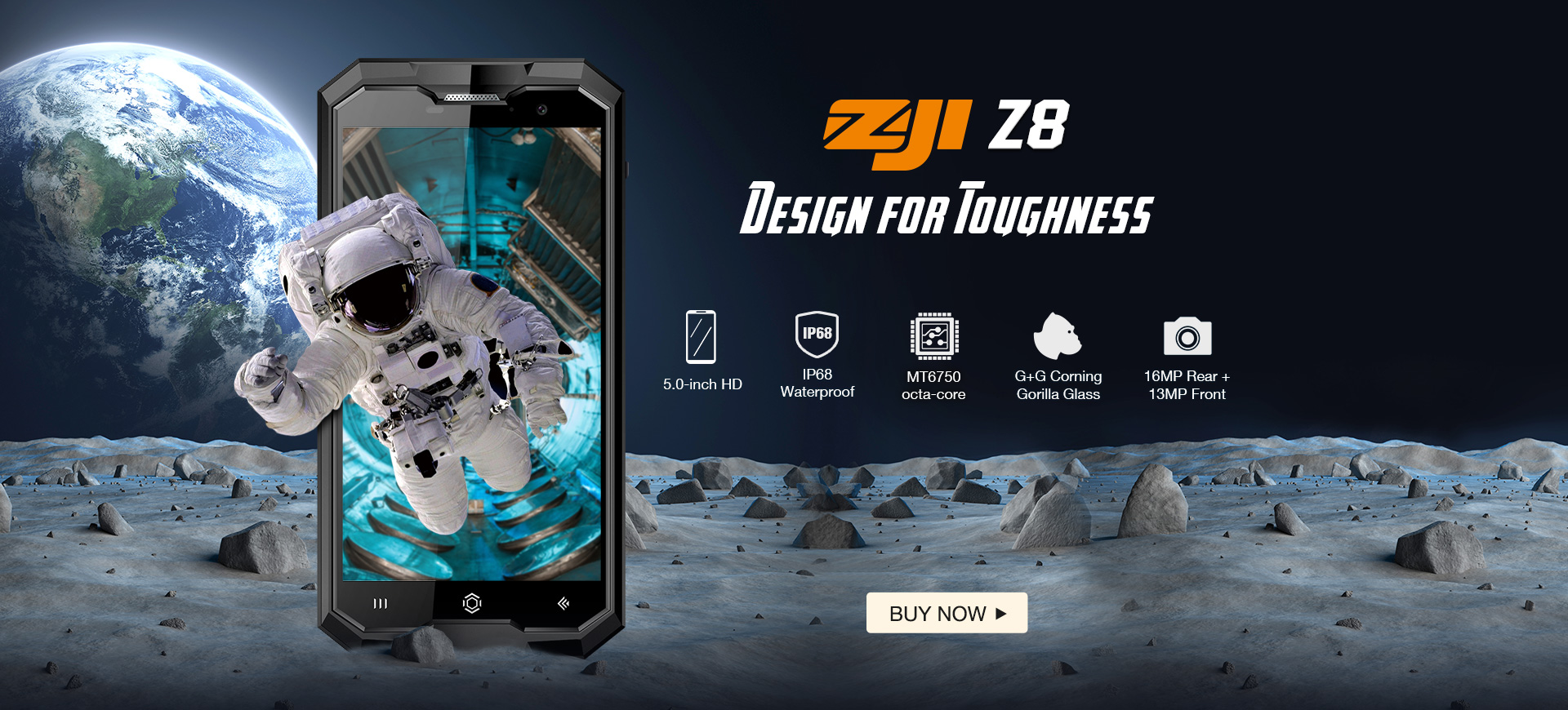 Sufficient Memory: Enjoy the Massive Storage freely
With 4GB RAM plus 64GB ROM sufficient memory, 128GB expandable, the ZOJI Z8 offers enough storage capacity for users. Store image, audio or video files, play favourite games, etc. Just enjoy!
Outstanding Photography
16MP main camera plus 8MP front camera help memorize your moments clear. And, you can also use the facial beautification mode, the panoramic shooting, the HDR, the Auto-focus, etc., to shoot pictures in different tone and forms.
Now, ZOJI Z8 is on presale on AliExpress for a special price of $168.99. You can check that out from here.
You can also get more information by visiting ZOJI's official website or follow their social media page on Facebook and Instagram for regular updates.