Zoji Z6 Review: Rugged, Light & Affordable
by Habeeb Onawole Aug 7, 2017 2:19 pm2
Zoji is a new smartphone line from HomTom which itself is a sub-brand of DOOGEE. The Zoji line is aimed at providing users with rugged smartphones that are light and affordable. At the moment there are two phones under their belt: the Zoji Z6 and the Zoji Z7. I've had the former for a couple of weeks now and this is my review of the device.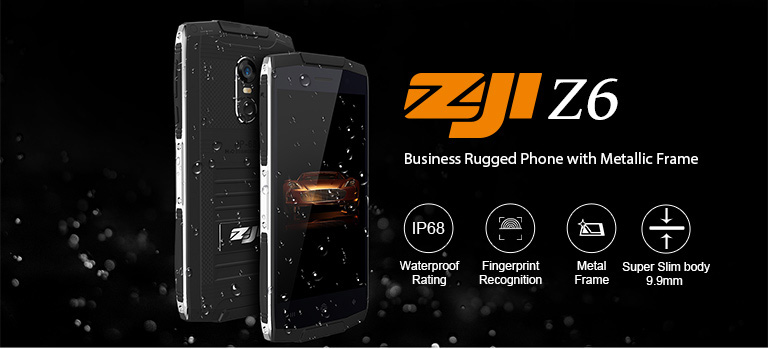 Before I dive into the review, let's take a look at the specs.
ZOJi Z6 Specs
4.7-inch HD Display with  Gorilla Glass 4
1GB RAM
8GB ROM
MTK6580 Quad-Core SoC clocked at 1.3GHz
8MP rear cameras with LED flash
5MP front facing camera
3000mAh Battery
Fingerprint Scanner
IP68 Rating
Android 6.0 Marshmallow
Hybrid Dual SIM (Nano Only)
Micro SD Card Slot
3.5mm Audio Jack
Zoji Z6 Design
The Zoji Z6 is a mixture of metal and plastic, hard polycarbonate plastic that can take a beating. Once you hold it, you can tell it is a rugged phone from the way it is built. It is not ugly neither is it beautiful so it will probably go unnoticed when you bring it out of your pocket.
The Z6 is IP68 certified meaning you can dunk it in water and not have to worry about it getting spoilt. However, you have to make sure all the flaps are tightly shut which brings us to the first issue I have with the phone.
Zoji's way of making this phone waterproof is covering all the ports with thick flaps. Opening these flaps the first time isn't easy and if you have long nails, you need to be careful not to break them. You have three flaps in total: one for the charging port, another for the audio jack at the top, and a third that covers the SIM tray on the left.
The issue I have is with the earphone and charging ports. Because of the rugged design of the phone, the ports are buried deep which means your charging cable or earphone cable has to have a really long connector to reach it. To get the picture, imagine a soldier wearing an armor who needs to reach into the pockets of the clothing underneath.
The result is that earphones or auxiliary cables with a right-angle design won't work since the connector won't fully plug into the port. For charging cord, make sure you don't leave the one that comes with it at home or lose it or else you will have to shave off the plastic from a spare cable.
This con also made it impossible to try my USB OTG flash drive.
Software
The Zoji Z6 comes with Android AOSP. There are very few bloatware apps which you can disable or uninstall. The phone uses capacitive buttons which sadly are not back-lit but at this price-point, it is not a deal breaker. You can choose between using an app drawer or having all the icons on the homescreen. There is Google Play Store and Gmail pre-installed, any other Google app you need can be downloaded from the store.
If you are familiar with Android AOSP, then you should know phones like this come with some additional features like gesture support and smart motions.
The storage is small, so if you plan to use this as a daily driver, you should invest in a microSD card. Since it is Android 6.0, you should be able to use the microSD card as an adoptable storage. I don't have a microSD card slot as I haven't used a phone that supports one in years, so I couldn't test it.
The fingerprint scanner isn't fast but it gets the job done. Sometimes you may have to try it twice before it responds.
Camera
The camera isn't spectacular and takes fairly ok shots outdoors. Indoors, you have to make sure there is enough light to make sure the objects are visible as the LED flash does next to nothing. The camera app is slow too, so this shouldn't be your choice if you are trying to take fast moving objects.
Battery Life
There is a 3000mAh non-removable battery in it. It won't last a whole day and will provide about 3.5 hours of screen on time.
Additional Features
There are some nice features that I like such as the fact that it has a FM radio which you also lets you record live broadcasts. This is  feature that is missing from most phones these days
Waterproof Test
The Zoji Z6 has an IP68 Rating. It is even boldly written on the back of the phone. I decided to try it out and I was disappointed. It does a good job keeping the water out but is practically unusable under running water or even submerged. The screen didn't respond to my several attempts at unlocking it neither did the scanner. Though the latter was expected.
The Zoji is waterproof literally but if you take it swimming and think you can use it under water, I'm sorry to burst your bubble but it won't work.
READ MORE: HOMTOM HT50 offers 5500mAh and Good Specs for just $99!
Conclusion
The Zoji Z6 is a well-built phone for its price. It will survive falls on to concrete or ceramic tiles and even a swim but won't work under water.
If you are on the lookout for a rugged phone that doesn't break the bank, then I can recommend it. However if you are looking for a phone with a superb camera, 4G LTE, and high performance, this is not it.
The Zoji Z6 is available on TinyDeal for $82.98. Thanks for sending the review unit.