Google Pixel 2 & Pixel 2 XL Land Geekbench
Google announced the Pixel 2 and Pixel 2 XL last week and one thing that stood out is the powerful camera the flagship models are said to pack. The Pixel 2 camera is presently DXOMark's highest rated smartphone camera, a fact that was only revealed after the launch. But one question still unanswered is how the Pixel 2 and Pixel 2 XL fare in benchmark tests.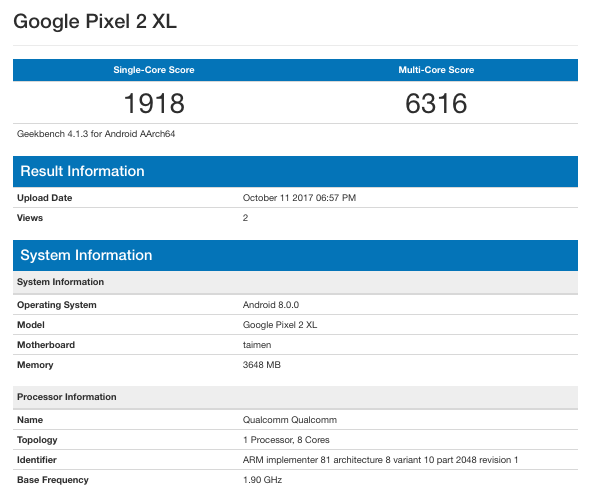 That has now come out to the open because the Pixel 2 and Pixel 2 XL have been spotted on the database of Geekbench. Obviously, both smartphones are powerful terminals with a Qualcomm Snapdragon 835 processor piloting the affairs in both models. The Pixel 2 Geekbench score shows it scored 1918 points on the single core test and expectedly, the Pixel 2 XL also recorded the same score.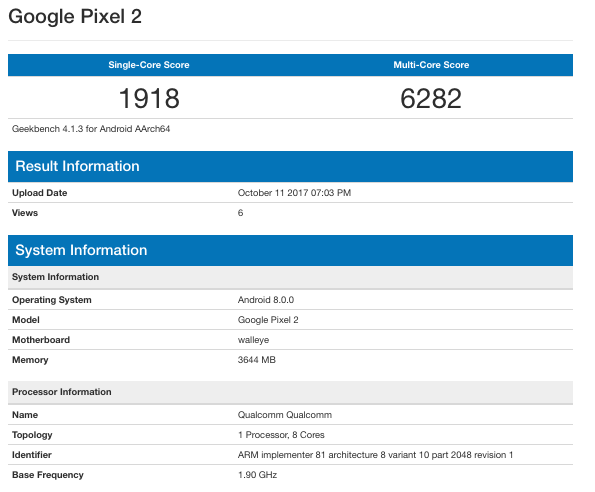 Related: Google Pixel 2 Camera Now DXOMark's Best Camera With A Score of 98
On the other hand, on the multi-core score, the Google Pixel 2 scores 6,282 points while the Pixel 2 XL polled a slightly higher 6,316 points. Comparing the scores to that of other Snapdragon 835 phones benchmarked already like the Galaxy S8 (single-core: 1929, multi-core: 6084), OnePlus 5 (single-core: 1963) (multi-core: 6687) and the Xperia XZ Premium (single-core: 1943, multi-core: 5824), the Pixel phones didn't perform badly. Even the HTC U11 from the same manufacturer of the Pixel phones also scored points hovering around the same range on the single and multi-core tests.
(source)