Huawei Mate 10 and Mate 10 Pro are Official
by Habeeb Onawole Oct 16, 2017 2:13 pm0
Huawei has taken the wraps of its new flagships – the Mate 10 and the Mate 10 Pro. The new phones have been in the news a lot lately but have now been announced at an event in Munich Germany.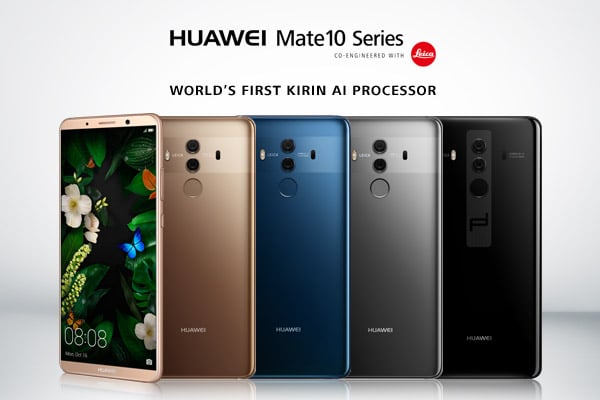 Mate 10 and Mate 10 Pro Design
The Mate 10 and Mate 10 Pro surprisingly both come with FullView Displays. However both phones are not similar in looks. While the Mate 10 comes with a 5.9" display like the Mate 9, its bezels are slightly larger than that of  the Mate 10 Pro.
The Mate 10's bezels measure 9.6mm thick at the top and 10.6mm at the bottom compared to the Pro's 8.4mm and 9.2mm thickness. However, the Mate 10 has thinner side bezels.
The slightly thicker bezels of the Mate 10 results in the phone having its fingerprint scanner in front instead of below the dual rear cameras like the Mate 10 Pro. Save for the dual position of the fingerprint scanner, both the Mate 10 and Mate 10 Pro have a similar rear design.
Mate 10 and Mate 10 Pro Specs
The Mate 10 has a 5.9-inch 2K (2560 x 1440) display with a 16:9 aspect ratio and 730 nits of brightness. The display has also been optimized for sunlight visibility. Rather than it being a RGB screen, Huawei says its a RGBW screen which uses the extra white color to achieve better visibility under intense sunlight while still saving power.
There is 4GB of RAM and 64GB of storage. It has a 3.5mm audio jack and a MicroSD card for storage expansion. It also has an IP53 rating which makes it dust resistant and spill-proof.
The Mate 10 Pro on the other hand has a 6" FHD+ (2160 x 1080 ) resolution and an 18:9 aspect ratio. Even with the large screen, the Mate 10 Pro has the body of a 5.5-inch phone. Huawei says the display has a 70,000:1 high contrast and 112% NTSC color saturation.
It comes in 4GB RAM + 64GB ROM and 6GB RAM + 128GB ROM variants. It has an IP67 rating and comes with Cat.18 LTE unlike the Mate 10 which has a Cat. 16 modem. Sadly, it ditches the audio jack and doesn't have a MicroSD expansion slot. It however comes with a pair of USB-C earphones and a a USB-C to 3.5mm adapter.
Both the Mate 10 and Mate 10 Pro come with NFC, Bluetooth 4.2 and a 4,000mAh battery . Huawei claims battery life has a 30% improvement over that of the Mate 9. There is also Superfast Charge allowing you to charge up to 58% in just 30 minutes.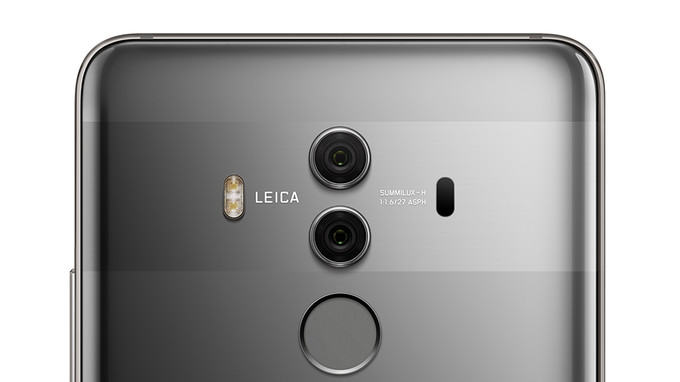 Mate 10 and Mate 10 Pro Camera
Once again, Huawei has partnered with Leica on the cameras. The configuration is still 12MP RGB + 20MP monochrome sensors. However, it now features dual F/1.6 and SUMMILUX-H lens. There is 4-in-1 hybrid focus, hybrid zoom, and OIS.
The Mate 10 comes with a dedicated NPU chip for AI tasks. The cameras take advantage of the AI capabilities of the phone to recognize what the object/scene is. There are 13 different object and scene recognition modes including pets, sunset, portrait, flower, food, and text which help improve the outcome of your pictures.
The front camera is an 8MP F/2.2 sensor which takes wonderful selfies.
EMUI 8.0
Just as earlier rumored, Huawei has made the jump from EMUI 5.1 to EMUI 8.0. The new UI is based on Android 8.0 Oreo making the Mate 10 series the first non-pixel device to come with Android Oreo out of the box. We believe that the jump to EMUI 8.0 is so that the version number syncs with that of the Android OS.
Some of the features of the EMUI 8.0 is dynamic wallpaper which changes as the day goes by, smart multi-column display, split screen multitasking, and instant offline translation.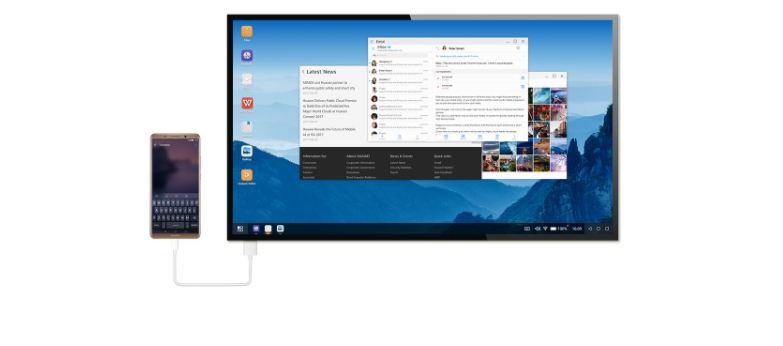 Easy Projection (Desktop Mode)
One of the new features that comes with EMUI 8.0 is a desktop mode. Unlike other manufacturers that use a dock, the Mate 10/Mate 10 Pro connects to an external display with the aid of a USB Type-C to HDMI cable thanks to its USB 3.1 support.
Once you connect to an external display, it takes a few seconds for the desktop mode to show up. You can decide to connect a Bluetooth keyboard or mouse or use the phone itself which can double as a touchpad and an on-screen keyboard.
Some of the features of Huawei's desktop mode is a start menu, resizeable windows, and a system tray that shows incoming notifications.
Mate 10 Friends
Huawei also unveiled a number of accessories for the Mate 10 phones. There is a SuperCharge car charger, a SuperCharge Power Bank with support for 4.5V/5A low voltage fast charge, EnVizion 360° camera and a smart scale.
READ MORE: Honor 6C Pro Unveiled with 5.2-inch HD Display, MediaTek MT6750, 3 GB RAM, 3,000mAh Battery

Mate 10 and Mate 10 Pro Availability
The Mate 10 is available in Champagne Gold, Mocha Brown, Pink Gold, and Black. The Mate 10 Pro comes in Mocha Brown, Midnight Blue, Titanium Gray, and pink Gold.
The Mate 10 will cost €699 and will be available in October while the Mate 10 Pro (6GB/128GB model) will sell for €799 and will be available in mid-November. US Pricing will be revealed later.